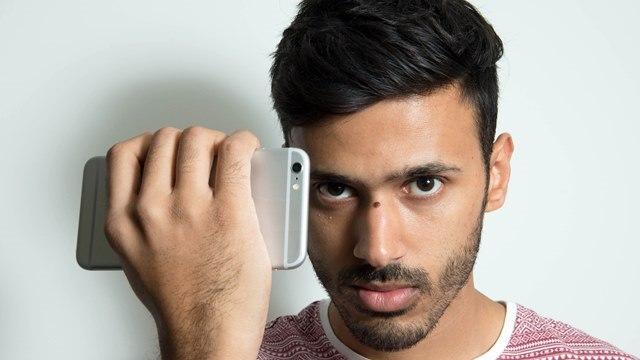 Rhodes > JMS > Latest News
Yusuf Omar SnapChatting his way to the top
Date Released:
Tue, 4 October 2016 10:34 +0200
By Ettioné Ferreira
Rhodes JMS alumnus, Yusuf Omar, is this month's IJNET (International Journalism Network) Journalist of the Month and recently won for the first time ever a Snapchat award, the Ghosties. Known for his #SELFIEJOURNALISM innovations in the South African media, he has made a significant mark in the industry.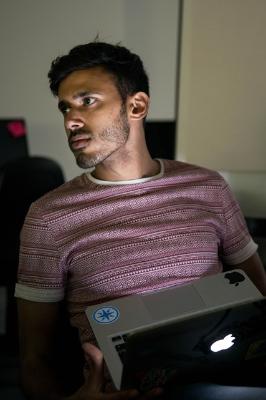 Born in the United Kingdom, raised in Australia and spending semesters in California before moving to South Africa and now India, Omar has made his mark as internationally proclaimed top mobile journalist.
Omar did a PG Dip in JMS at Rhodes in 2010 and was awarded the South African Reserve Bank Scholarship during the year. He did his undergrad in a Bachelor of Business, majoring in Marketing in Management from 2007 to 2009 at Griffith University. Thereafter he did a Business Exchange at California State University before coming to Rhodes.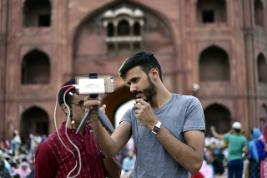 Winning multiple awards during his career he has become a well-known name in digital journalism. His first award was The Power of Politics of COP17 award at the Standard Bank Sikuvile Journalism awards in 2012 and won various names thereafter including the 2016 Influential Millennial of the Year from Cliff Central, Vodacom Journalist of the Year Editor's Choice National Award in 2015, Mobile Journalist of the Year from the RTE MojoCon/ Thomson Foundation this year and his latest award, the IJNET Journalist of the Month for September 2016.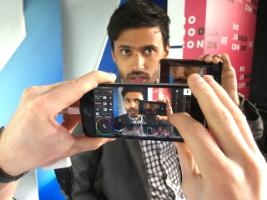 He first caught the eye of the public when he frequently featured in eNCA's top stories using the latest technological trends (click to watch Yusuf Omar on "#ZumaMustFall march in 360 degrees"). We talked to him to find out more about his role in the media.
Q: What made you decide to make a move from eNCA?
A: Travel grips many young couple's hearts. Proposing to my wife at the Comrades finish line in 2012 (allegedly dehydrated and hallucinating), I promised to show her the world. Moving to the Hindustan Times in Delhi is the start of that journey.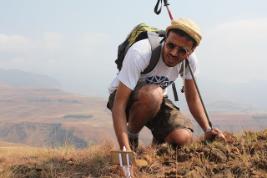 Q: What are the challenges working with mobile at The Hindustan Times and your current environment compared to South Africa and eNCA?
A: Scale. In South Africa I helped empower 12 millennials with mobile journalism skills on 'eNCA Bootcamp.' In India, I'm building the world's biggest Mobile Journalism team; 750 storytellers able to make stories with a mobile and for mobile devices. And get this, when I surveyed the newsroom, reporters own 75 different types of phones. Fragmentation is the F word in Mobile Journalism, a major challenge for video production.
The other challenge in India's digital space is an editorial one. If you want to go viral, cricket, Bollywood and right wing politics make the internet dance. Maintaining editorial value beyond cat videos, while still drawing a crowd, is the tricky part.
Today my community is India's youth & our meeting place is social media. I use mobile phones to help tell Indian stories— or rather, to allow communities to tell their own stories by way of selfie journalism.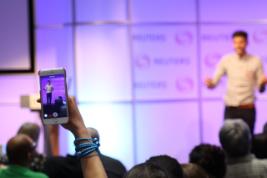 Q: Would you come back to SA?
A: As they say in Zulu, 'Job e Job'. Offers welcome!
Q: At the moment you're very focused on Snapchat, what benefits do you see for this platform and journalism, and why snapchat?
A: Remember Window's Paint in the 90's? Snapchat is like that, a blank canvas for mobile storytelling. Videos, text, pictures, emojis and geo-filters; it has all the ingredients of digitally native storytelling. Here's 6 ways the Hindustan Times is using Snapchat for journalism. What's important to understand is that I'm using Snapchat as a content creation tool, before exporting and repackaging those stories everywhere.
I'm not married to Snapchat, or Facebook Live. I use whatever technology or platforms afford us the greatest creative mandate to produce the best stories. Right now I'm obsessed with Facebook Canvas, but my obsessions change everyday. We're now trying to work out how to tell news in a Pokemon Go style augmented reality experience, or if there's a gap for news reports in the Musical.ly app.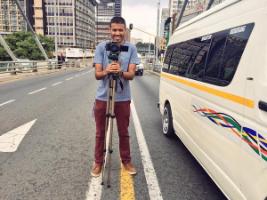 Q: What benefits can journalists reap from MOJO and why should journalists start using mobile more?
A: Here's the trends journos need to know. Firstly, the demand for video has never been higher. But no one has figured out how to make decent money with news online, so budgets are tight. Mojo started as a cost saving measure.
But more importantly, your phone is a connected device, and if audiences are watching on mobiles, it makes sense to make stories on mobiles. We start thinking about our videos like someone watching on a small screen.
Finally, speed is a mobile journalist's biggest competitive advantage. Your smartphone is the swiss army knife of journalism. It's the tool that takes pictures, records podcasts, edits videos. Even going live is now a 4G signal and a click away. The speed of development is also crazy. Your phone already has more computing power than the Apollo missions that landed on the moon. If the pen is mightier than the sword, your mobile is the atom bomb of storytelling.
We are just beginning to understand what happens when the smartphone meets storytelling + sharing.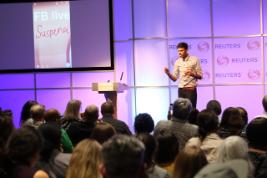 Q: Which year did you attend Rhodes JMS? And what did you study along with journ, etc.
A: I moved to South Africa from Australia in 2010 with a scholarship from the Reserve Bank to do a PGDIP. I'd previously done a bachelor of business, majoring in marketing and management. Standing in New York's Times Square, staring up at Calvin Klein models with underwear so tight you could tell their religion, that's when it hit me, I couldn't spend my life selling people stuff they didn't need. So I became a journalist.
Q: Do you have any message to student journalists at Rhodes JMS?
A:
• Do simple ideas. Get complex results.
• In traditional media, the maxim "If it bleeds it leads" held true, but on social media our community wants positive stories of hope & change.
• Don't be precious- I share everything I know with others. If another journalist wins, the audience wins. If the audience wins the newsroom wins. If the newsroom wins, I win.
• Do something crazy- my career has been a series of seemingly ridiculous ideas and adventures.
• See stories everywhere and be a self promoter to give those experiences momentum. Selfie journalism was simply a consequence of being under qualified. I wanted to cover the war zones, natural disasters and be a foreign correspondent. I was never the most experienced or knowledgeable reporter in the newsroom, just the cheapest. You could send me anywhere and I'd bring back everything.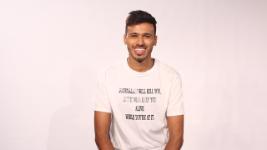 Follow Yusuf Omar on various platforms:
Skype: yomar89
Youtube: www.youtube.com/journalisminaction
Instagram, Twitter and Snapchat: @YusufOmarSA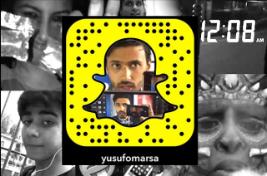 Source:Rhodes JMS