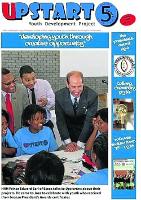 Rhodes > Latest News > 2014 Archive
G'town youth newspaper wins Sanlam media award
Date Released:
Wed, 28 May 2014 14:00 +0200
THE Upstart Youth Development Project in Grahamstown has won first place in the MDDA-Sanlam local media awards for the best front page last year for community and grassroots media.
The "Upstarters", as they call themselves, include dozens of Grahamstown high school pupils from various schools.
The aim of the project is to use various forms of media to break down racial, cultural and language barriers, while also developing skills.
The programme initially focused mainly on developing literacy skills through the production of a youth newspaper by the pupils.
But Upstart director Shireen Badat said the project had grown in leaps and bounds.
Upstart now has clubs in 11 schools, which meet on a weekly basis.
Flashmobs, blogs, Facebook and a youth newspaper are just some of the ways Upstarters communicate between themselves and the world at large.
They have even worked with Rhodes University journalism third-year students to produce short films about the environment and their lives.
The youth newspaper, Upstart, features news on community and school activities.
The front page that won the award featured Prince Edward talking to Upstarters about their various projects.
Badat said about 750 entries were received for the awards.
Sanlam's head of group communications, Ainsley Moos, said this year's entrants had submitted a great body of work.
By Adrienne Carlisle
Source: The Herald
Source:The Herald