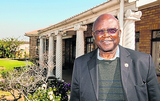 Rhodes > Latest News > 2014 Archive
Helping matrics do well is his passion
Date Released:
Mon, 8 September 2014 09:14 +0200
Driven by a deep-seated desire to have every parent beaming with pride at seeing their children graduate and climb up the academic ladder, Port Elizabeth's Rev Dr Simon Gqubule has dedicated the latter part of his life to ensuring pupils get off on a sound footing.
Gqubule, 86, a former English and theology teacher, has spent the bulk of his retirement years going back into the classroom at various Bay schools in a bid to help high school pupils in grades 10 to 12 reach their academic peak.
He lives in Gqubule Street, in KwaNobuhle, which was named after his family.
An alumnus of Fort Hare and Rhodes universities – he was the first black person to get a doctorate from Rhodes in 1978 – the ordained minister says education has always run in his blood.
He had never really considered it as a career while he was a pupil at Fort Beaufort's Healdtown Institution from 1943 onwards.
With his late wife Miriam "Jay" Mazibuko equally passionate about education, it was no wonder their own children, Duma, Thandi and Phumla, went on to attain masters' qualifications at South African universities and overseas.
"If that could happen to me, it can definitely happen to the children of others. My mission is to move heaven and earth to see that happening," he said.
Gqubule's efforts in education, however, did not prepare him for his announcement as a finalist in the 2014 Herald Citizen of the Year competition.
"I was surprised when I got the call last week. Those things don't usually come to me," he said humbly. Gqubule's teaching career was launched "by accident" when Healdtown chaplain Seth Mokitimi, who was his mentor, asked him what he planned to study after his matric year in 1947.
"I told him I couldn't study further because my father, who earned five shillings and four pence a month, could not afford to send me to Fort Hare. He suggested I return to Healdtown to train as a teacher and organised me a bursary," he said. "So I was afforded a nice opportunity and I feel a need to do my bit, no matter how small, to give others similar educational opportunities."
After retiring at the end of 1998, Gqubule approached Tinara High School to help out in the classroom because, he says, the school was battling with a low pass rate that doubled in the time he was there.
Gqubule has studied in universities across the world, including Geneva, London and Edinburgh. He was awarded honorary doctorates in divinity by Rhodes University in 1995 and in theology by the University of South Africa in 2004.
He runs Ilitha Lemfundo Educational Enhancement Centre, which he founded in 2007, at Uitenhage's Sisonke Secondary School, and helps pupils with all matric subjects except for Bible studies, isiXhosa and Afrikaans.
Gqubule said the centre was born out of concern about the high matric failure rate and a will to help change it. It was registered as a non-profit and public benefit organisation, which means donors get a receipt from Ilitha and can include it in their tax returns.
"That is my pride and joy. And seeing those children go on to become great things is always a beautiful and humbling feeling," he said. "Although it was born out of an idea to aid matrics, we realised that intervention only in Grade 12 was too late, and included grades 10 and 11."
Gqubule beams when he tells where some of the pupils who have gone through Ilitha have ended up, boasting of a 90% average pass rate in the past four years.
"Some of our pupils have gone to Cape Town, Rhodes and Nelson Mandela Metropolitan universities," he beams. "I remember smiling to myself when I attended a graduation at Rhodes for one of our pupils. It truly is an amazing feeling."
He also worked on the Masizakhe Project in the early 2000s, where he and four others helped boost schools' performance. He said the project dissipated when then mayor Nceba Faku left office, as his council was financially supportive of the initiative.
Faku yesterday described Gqubule as an influential person with high moral capacity.
"He has come a long way as a contributor to the community and society. He has a lot of products in ministry. Even after his retirement he continued with teaching because of his passion for education," he said.
"I can personally attest to his moral capacity. He is a man of integrity and there is no doubt that he is worthy of consideration."
Theologian and human rights activist Barney Pityana counts Gqubule as one of the people who influenced him during his time at Fort Hare University. – Zandile Mbabela
By: Allan Williams
Caption: STILL TEACHING: Citizen of the Year finalist Simon Gqubule at his KwaNobuhle home yesterday. Picture by: MARK WEST
Article Source: The Herald
Source:The Herald