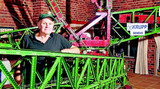 Rhodes > Latest News > 2014 Archive
Prof's machine takes over the home
Date Released:
Fri, 2 May 2014 11:45 +0200
Imagine having the largest land vehicle on earth in your living space. Rhodes University retired maths lecturer Graham Shepherd's family knows exactly how it feels. For the past five years, the world's largest Meccano model of the monstrous Germanbuilt Krupp Bagger 288 bucket-wheel excavator has been under construction in their stunning Grahamstown home.
One car was evicted from their double garage for part of the construction, while their lounge, dining area and television room were slowly taken over. Happily, the fantastical Meccano version of the reallife 13 500-ton machine - reportedly 96m high and 220m long - is a one-in-18 model.
Even so, the high-ceilinged home only just accommodates the towering 5.2m-high structure that stretches about 12.5m across their thankfully open-plan living spaces. "It was a bit mad," admits Shepherd. "But I wanted a challenge for my retirement." If he had used original Meccano parts, he says it would have cost him about R2-million - a budget very few retired university lecturers could meet. So instead he made about 99% of the parts at about a tenth of the cost. But the parts are faithfully identical to the Meccano ones.
He painstakingly precisiondrilled about one million holes into the parts - the equivalent of drilling through about 1km of steel. During the erection process he used about 75 000 bolts, the same number of washers and about 85 000 nuts. Finally a team of 11 volunteers helped put the large assembled arms and bucket wheel onto the main assemblage. Perhaps the most astonishing thing of all is that the model is a working one and functions exactly as the original.
The real Bagger 288 uses its eight-storey tall impeller to excavate up to 240 000 tons of German coal a day - which is then conveyed via conveyor belts to feed power plants. That is enough coal to fill a line of trucks stretching the 200km from Grahamstown to Jeffrey's Bay, said Shepherd. So what do you do with such a magnificent machine which took five years to build? You disassemble it of course. Shepherd is hoping to sell it to Meccano or perhaps Krupp. If he does, it will be disassembled into manageable parts, crated and packed off to its destination.
In the meantime, the celebrity of his model has spread across the world and it has featured on Meccano social networking sites, in Meccano magazines and in popular media. His next retirement project will probably prove far more acceptable to his accommodating wife, Eileen, and the rest of the family. "I am going to remodel our dated kitchen," says Shepherd with a grin.
Caption: UNBELIEVABLE CONTRAPTION: Retired Rhodes University maths lecturer Graham Shepherd with his magnificent Meccano bucket-wheel excavator machine — reputed to be the biggest Meccano model in the world
Picture: SUPPLIED
By: Adrienne Carlisle
Article Source: DAILY DISPATCH (Final Edition)
Source:Daily Dispatch