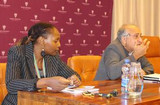 Rhodes > Latest News > 2014 Archive
Universities must think African, urges Pityana
Date Released:
Fri, 2 May 2014 15:10 +0200
African universities need to take charge of their research as Africans, Prof Barney Pityana told delegates attending a Rhodes University seminar on Wednesday.
The packed one-day seminar, organised to celebrate 20 years of South African democracy, debated Africanisation and transformation of the South African higher education sector.
Pityana, Rector of the College of the Transfiguration in Grahamstown, argued for a "method of inquiry that is integrated and holistic and that it is rooted in African ways, thinking and understanding".
African researchers need to become more Afrocentric and less Eurocentric in their thinking, he said.
"A colonised mind has no imagination except regurgitation of the colonial master's thoughts."
Participants stressed the need for the scientific community to appreciate indigenous languages. Research published in these languages currently gets no credit or recognition.
The lack of collaboration and limited citations were noted as being a hindrance to the knowledge bank in Africa.
"We need to think about Africa as Africans in Africa," Pityana said, if this situation is to change.
Welcoming the guests earlier in the day, Rhodes University's Vice Chancellor, Dr Saleem Badat, said that transformation could not be separated from Africanisation.
"The ideas of transformation and Africanisation are chapters of one book," he said.
Noluxolo Nhlapo, Rhodes director of equity and institutional culture, spoke about the problem of gender-based violence.
She asked the audience to observe a moment of silence in honour of Rhodes second-year student, Amanda Tweyi, who was murdered in a Rhodes residence room last Saturday.
Dr Molebatsi Nkoane, senior lecturer in the Faculty of Education at the University of the Free State, emphasised the need to look at Africa through "our own lenses" and not through the lenses of others.
Director of the Wits University Centre for Diversity Studies, Professor Melissa Steyn, said the failure of Universities to engage and enter into dialogue about Africanisation was evidence that African knowledge is seen as "erroneous".
"As Africans we should be able to draw on local knowledge," she said.
Africanisation and the transformation of South Africa's higher education sector is going to be a messy and a difficult process, she said, urging everyone to participate fully.
By: Mncedi Eddie Magade and Muhammad Hussain
Article Source: Grocotts Mail
Source:Grocotts Mail