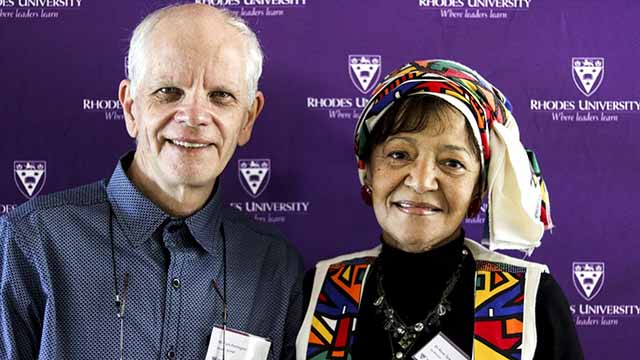 Rhodes > Latest News
25th RUMEP anniversary event highlights funding challenges
Date Released:
Thu, 26 April 2018 10:30 +0200
While the Rhodes University Mathematics Education Project (RUMEP) celebrated 25 years of mathematical understanding achievements this year, the event also highlighted its urgent need for funding.
Speaking at this year's anniversary event at Gavin Relly Postgraduate Village on 21 April 2018, Vice-Chancellor of Rhodes University, Dr Sizwe Mabizela, said, "as an NGO attached to Rhodes University, RUMEP has remained at the forefront of mathematics education in the province. However, with rural schools in the Eastern Cape being the poorest in the country, we face huge challenges for teaching and learning, especially within the STEM (science, technology, engineering and mathematics) disciplines."
South Africa as a whole, but the Eastern Cape, in particular, has long grappled with a low number of learners from disadvantaged backgrounds achieving necessary mathematics pass rates which, in turn, continues to have a negative impact on the development of the country. According to 2017 matric results, only 42% of the province's pupils passed maths.
Although RUMEP has provided a solid service for a quarter of a century, classroom support visits done last year showed learners still lack fundamental computational skills, content knowledge and language proficiency. RUMEP director Mr Tom Penlington explained, "further hindrances include student dependency on their knowledge of both mathematics as a language and the language used to teach mathematics."
Inadequate resources such as poor building structures, lack of furniture and a lack of space, contribute to teachers being unable to teach mathematics effectively. Teachers either don't have the expertise or are unqualified to teach mathematics and, as such, often lack the confidence to teach it adequately.
"RUMEP has worked with the remotest of schools because it is them that are forgotten," said Penlington. "Despite our efforts to improve teaching and learning, very little assistance has come from some of the Department of Education districts. However, departmental officials in the seven clusters which assist us are very loyal to the programme."
The CEO of the Sishen Iron Ore Community Trust, (SIOC), Mr Vusani Malie told attendees that RUMEP was one of the units at Rhodes University that SIOC had worked with over the last six years.
The guest speaker at the event was Dr Sibawu Siyepu from the Cape Peninsula University of Technology (CPUT), one of the first RUMEP alumni to graduate from Rhodes University. Other speakers included former director of RUMEP Dr Rose Spanneberg and board member Professor Ken Ngcoza.
"We are grateful to all of our funders, but even so, this is not enough. Funding remains the biggest challenge at RUMEP," Penlington concluded.
Source:Communications