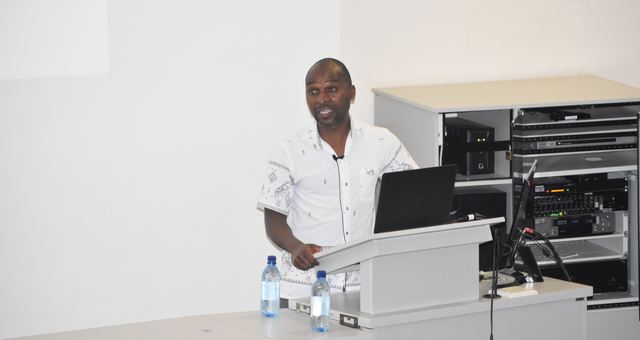 Rhodes > Latest News
BioBRU celebrates 10 years
Date Released:
Fri, 23 November 2018 14:15 +0200
By Zama Khwela, Postgraduate Diploma in Media Management student
A talk organised by Rhodes University's Biomedical Biotechnology Research Unit (BioBRU) was held recently in celebration of BioBRU's 10-year anniversary.
Deputy Vice Chancellor of Research Dr Peter Clayton, introduced the former Rhodes University PhD graduate, Professor Addmore Shonhai. Shonhai is currently a Professor and the Head of the Biochemistry Department at the University of Venda.
"For me, the true achievement is working with students as they transform and being part of this transformation," Prof Shonhai said.
International researchers have picked up on the work that BioBRU's scientists have done, creating opportunities for the Unit in terms of funding and further recognition and visibility. Shonhai said this shows the public exactly what BioBRU is capable of.
The talk focused on the malaria research progress of Prof Shonhai and his team, which includes BioBRU and Rhodes University's Professor Heinrich Hoppe.
The importance of the research being done by Professor Shonhai and BioBRU is rooted in the fact that malaria affects 90% of sub-Saharan Africa and is responsible for nearly half a million deaths annually. Children under the age of five and pregnant women are most commonly affected.
The problem lies in when a therapeutic modality is introduced to treat malaria, the parasite becomes resistant to the treatment. Prof Shonhai said that while Chloroquine has been used for the treatment of malaria, due to high levels of resistance, it has become necessary to use dual-drug therapies to treat the disease.
"What does not kill, makes stronger," said the Professor.
Prof Shonhai provided details on the current research he is conducting on understanding the stress response of the parasite. He speaks about the methodologies used and the results that he found.
He explained that when the body is infected with malaria, one of its defence mechanisms is to raise body temperature. This is the body's attempt to destroy the organism's protein structure and function.
"The parasite is not an understanding tenant; it modifies the home rented out to it," Prof Shonhai explained.
Essentially, the primary focus of this research is on heat-shock proteins. These proteins function at higher temperatures, protecting the structure and function of other proteins that would essentially clump together and denature, allowing the parasite to survive. This is question Prof Shonhai is attempting to answer: How and why does malaria not die when the temperature rises?
Prof Shonhai, his team and BioBRU are looking into possible pathways that occur within the parasite and the red blood cells; and whether any of these are potential anti-malarial drug targets.
"I want to see change for a parasite as a possible cost, because we know when you go through change there a possible cost, but change can also present opportunities," Prof Shonhai concluded.
Source:Communications