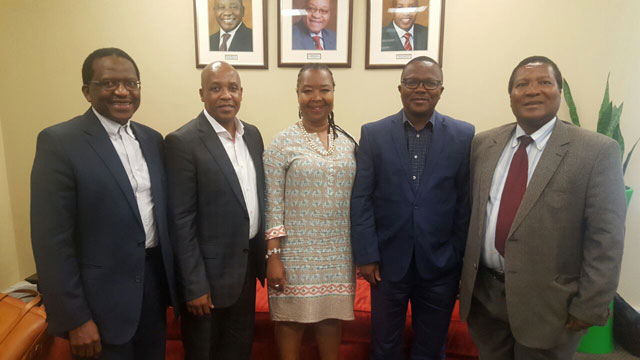 Rhodes > Latest News
EC university VCs meet Premier Phumulo Masoalle
Date Released:
Wed, 1 February 2017 17:11 +0200
The Vice-Chancellor for Rhodes University met with Eastern Cape Premier Phumulo Masualle together with the Vice-Chancellors of two of the Eastern Cape's universities today. They discussed and engaged on a wide range of issues including collaborative efforts as to how they can best harness and use available resources to improve the provincial governance and the institutions for mutual benefit. They also looked at creative ways of dealing with the challenges faced by the higher education institutions in the province.
From left to right: Rhodes University Vice-Chancellor, Dr Sizwe Mabizela, Former Acting Vice-Chancellor for NMU, Dr Sibongile Muthwa, incoming Vice-Chancellor for Fort Hare, Prof. Sakhela Buhlungu and Prof Gilingwe Mayende, the former acting Vice-Chancellor for Fort Hare.
Source:Communications