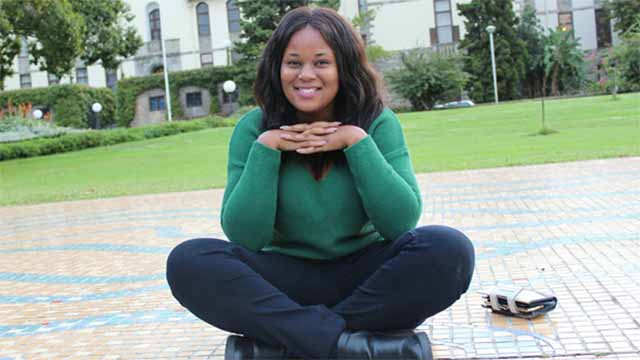 Rhodes > Latest News
Ekunyamezeleni Ukhona Umvuzo!
Date Released:
Mon, 7 May 2018 09:34 +0200
By Nobathembu Ndzengu
Athenkosi Nzanzeka was one of the 63% women representation who graduated from Rhodes University this year. "It was a hard journey, but because I am a driven-person, I persisted," said Nzanzeka.
Born and bred in Grahamstown, eJoza, Nzanzeka was raised by a single-parent. She completed her matric in Johannesburg with a Diploma pass. Due to financial constraints, however, she could not study further.
"I do not like being idle. I understood that I could not go to school, but I still did not want to sit around and do nothing." Rhodes Music Radio (RMR) advertised that they were looking for people to host shows, and after she applied, Nzanzeka was asked to host the 9h00 to 12h00 show. She used to walk to work with her mother to save money.
In 2012, a friend suggested she attend Gadra Matric School. Gadra offers a one-year full-time programme for students wanting to rewrite their National Senior Certificate subjects and provide all the necessary resources for their students to produce better results. Nzanzeka added, "I was getting tired of explaining to Rhodents that I am not a University student - even though I so wanted to be one."
Nzanzeka was accepted at Gadra Matric School in 2013 and decided to upgrade her English Home Language, Life Sciences, and Physical Sciences, as well as change her Mathematics to Mathematical Literacy.
Then, in May of 2013, Nzanzeka started losing her sight.
"I used to tell my teachers that I could not see the board, and because my mother could not afford to take me to optometrists, Gadra helped me financially," she recounted.
Nzanzeka's hardships, however, did not end there. She started having problems with high blood-pressure, it was discovered she had a disease called Takayasu's arteritis. "It's an artery disease. Blood couldn't go to the heart and other organs easily, which is why my blood pressure was high," explained Nzanzeka.
After an operation in Cape Town, doctors insisted that she rest. This was in June 2013 – the month in which exam results are used to apply for university acceptance. "Due to my surgery, I had missed exams. I was forced to use my old results to apply, even though I knew Rhodes would not accept me," she tearfully recalled.
It was around this time that Nzanzeka's fortune changed. Her determination, despite the many challenges she faced, did not go unnoticed by either Gadra, who continued to support her wholeheartedly, or Rhodes University, where she was accepted into the Extended Studies Programme in 2014.
Today, Nzanzeka holds a Bachelor of Arts degree with majors in Journalism and Media Studies, IsiXhosa and Drama. She works at a company called Viacom International Media Networks as an intern for the marketing team for the channel Nickelodeon.
For all aspiring graduates, she shared the following advice, "I know it is not easy. Find what you love, stick to it, and work hard."
Source:Communications