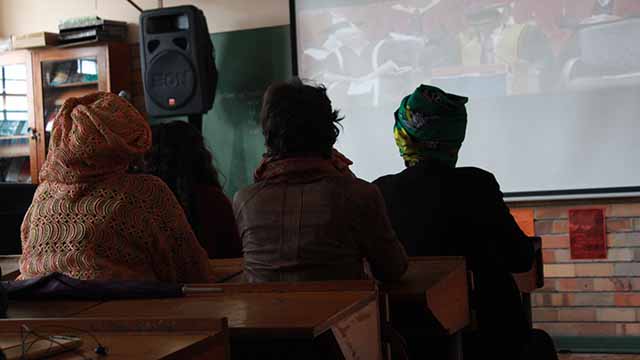 Rhodes > Latest News
From gown to town
Date Released:
Mon, 7 May 2018 09:01 +0200
By Sinovuyo Falakahla
The town of Grahamstown experienced a first-time-ever during this year's annual Rhodes University graduation programme.
Taking place in April each year, the Rhodes graduation programme has seen many pre-graduates flock to the town for certifications over the years. This year, however, marked the first time the University included local school communities, specifically Grade 11 and 12 learners, in its graduating proceedings. This was done via a video screening link at two secondary school venues, Mary Waters High and Nombulelo Senior Secondary.
This initiative was a result of the University's Community Engagement Division working with disadvantaged community high schools. Community Partner Liaison, Ms Nosipho Nkwinti, explained how the goal of the initiative was to create "a great paradigm shift in terms of how the Grahamstown community sees Rhodes, since the University is still viewed largely as a faraway ivory tower".
The reason why Grade 11 and 12 learners are being targeted is because they are close to being graduates themselves, from a secondary education institution, and the community screenings project hopes to inspire and encourage them towards tertiary education.
Ms Nkwinti added, "By bringing this initiative to the community, we hope people will start seeing Rhodes as an opportunity for the community and not just an institution in the community."
Nombulelo's headmistress Nicci Hayes said of the project, "It helps the learners, even if just on a subconscious level, to realise their potential value and worth."
When Hayes sought feedback about the screening initiative from her participating learners, many of them said they felt as if they were finally being recognised and some reported being motivated upon realising how much the project's investment in their success means. Hayes added, "Nombulelo is infinitely grateful for the input from Rhodes, across all facets."
Siphamandla Ngoqo, a Grade 12 learner at Mary Waters, expressed her appreciation at being invited to watch the Rhodes graduation proceedings and interact with the graduates at her school. "My school marks haven't been up to scratch lately," she admitted. "But seeing what is possible if I apply myself more, was really inspiring. When I heard the loud praise, clapping, ululating, and cheering the Rhodes graduates got at the ceremony and the screening venue, all I could think of was how proud I want my family to be of me too one day."
Source:Communications