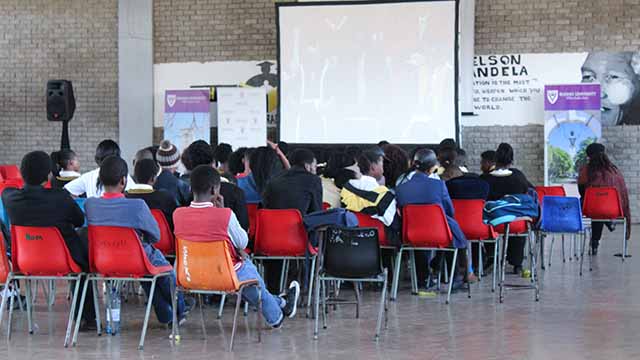 Rhodes > Latest News
From Monument to Joza!
Date Released:
Sat, 7 April 2018 15:09 +0200
By Nobathembu Ndzengu, 3rd year Journalism student at Rhodes University
The screening of the graduation ceremony in public schools is by far one of the best initiatives by Rhodes University. As someone from Grahamstown, I think this initiative brings Rhodes University closer to the Grahamstown community.
As graduation happens at the Settlers Monument, I have always been curious as to what happens inside those walls. Yes, we would see short videos of the ceremony and some highlights of the graduation ceremonies, but I had no idea what goes into the whole graduation process.
I know some ululate, as that is the sign of celebration in some African cultures, but I have never been inside to see the joy and excitement of the parents, and the graduates' emotions when they kneel before the Chancellor to be capped.
The screening at Nombulelo Secondary School was truly an inspiring session. Meeting some of this year's graduates during the session was one of my favourite moments. There was a certain atmosphere they created during the session.
Although the graduates did not seem to be aware of it, the learners were more focused on them than the ceremony being screened.
The expressions of on the learners' faces when the names of the graduates sitting among them were called out "with distinction" was amazing to watch. Some of the graduates are mentors and tutors and the learners recognised them and cheered extra hard for them.
Zusive Tyhanstula, a Grade 12 learner who attended the screening wants to study Biochemistry at Rhodes University. He said, "I feel inspired because this shows that I have to work hard to get to that level, and I hope this continues so that others can gain what we have gained from this."
This graduation screening initiative is an exactly what we need in our communities. It is only through seeing people graduate from your own community that one can truly believe it is possible to achieve your dreams - no matter where you are from.
Unathi Mabukane, the SRC Community Engagement Councillor at Rhodes University is from Grahamstown and graduated with a Bachelor of Social Sciences. "I think this is a great initiative. One of the things that will encourage the learners is that they are seeing graduates from Grahamstown and these are people they know, and they can immediately relate to. By seeing that, they will be motivated to focus in school and work hard to get to university someday."
I certainly hope that the screening of graduation to local communities will continue. I wish this had happened while I was still in high school. It would have removed any self-doubt I experienced as a learner heading towards university and assured me that where I come from should not determine where I am heading.
Source:Communications