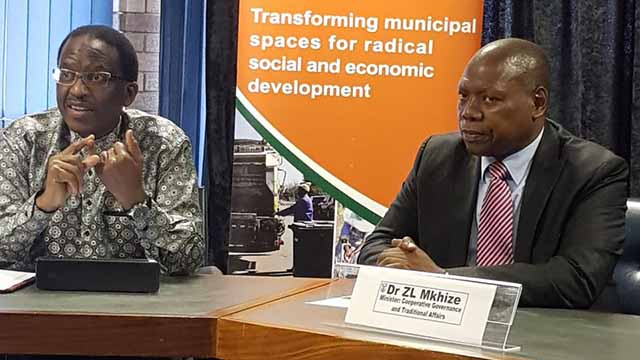 Rhodes > Latest News
Further degeneration of Makana infrastructure must be avoided at all costs, urges Minister Mkhize
Date Released:
Fri, 4 May 2018 15:04 +0200
The Minister of Cooperative Government and Traditional Affairs (COGTA), Dr Zweli Mkhize, has thrown his weight behind a new programme of action to improve service delivery challenges and infrastructure deterioration in Makana Local Municipality.
Following a presentation by Rhodes University regarding the adverse impact of the current situation on the growth of the university, Dr Mkhize said the situation could not be allowed to degenerate further. "I have seen even gorier pictures of the town's condition than you have modestly shown here."
Dr Mkhize, accompanied by a high-level delegation from the Department, is currently on a fact-finding visit to Makana. His schedule of meetings today included sessions with Rhodes University, the Business Forum, and municipal representatives. Rhodes Vice-Chancellor, Dr Sizwe Mabizela, Executive Mayor of Sarah Baartman District, Councillor Eunice Kekana, and Makana Local Municipality Executive Mayor, Councillor Nomhle Gaga were also in attendance.
Dr Mkhize urged that a multi-stakeholder structure comprising national, provincial, local and university representatives be set up to develop a programme of action, as well as task teams for implementation and improving implementing capacity.
He personally committed to taking charge of overseeing the implementing structure for the programme of action in co-operation with Dr Mabizela.
Follow up meetings are to be scheduled between designated role-players for the development of the action plan, as well as monitoring and reporting frameworks.
In response to Dr Mkhize, Dr Mabizela reflected on several past cooperative initiatives that had not proven fruitful. "We have tried to strengthen the relationship between Rhodes University and the Makana Municipality often in the past, but our plans have not always worked as intended," he explained. "The Municipality needs to ensure stability in its operations. There should be permanent staff employed in critical posts. Revenue collection has to be a primary concern together with ongoing improvement of data quality. We need to have the competencies and technical skill required to run a thriving municipality."
"There is renewed hope. It is better to light a candle than to curse the darkness," Dr Mabizela concluded.
Source:Communications