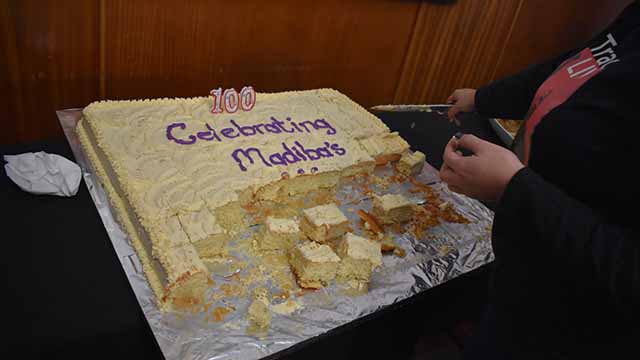 Rhodes > Latest News
Honouring Madiba during and beyond Trading LIVE for Mandela Week
Date Released:
Wed, 8 August 2018 16:33 +0200
The Rhodes University Community Engagement Division reported a very rewarding Trading LIVE for Mandela initiative, which continued well beyond its initial allocated week.
There were a number of volunteer groups, student clubs, staff and academic groups, local, private and public schools, NGOs, local government departments and businesses that took part in the trades, many of who are still having meaningful engagements outside of the Trading LIVE for Mandela Week.
According to Mx Thobani Mesani, Coordinator of the RU Parent Engagement Programme and Social Media Relations at the Community Engagement Division, there was a total of 151 trades this year. "It was a very successful event, as nearly all of the trades that were planned took place, even beyond the timeslot we had allocated to Mandela Week. We also had more people joining Trading LIVE in the middle of our Mandela Week who were not initially part of the programme," he said.
Virtuous volunteers
One of the most successful events that took place was Makhulu Mahlakahlaka's 100th birthday party. Organised by the Friends of Ethembeni, this centenary celebration was the most spoken-about event, said Mesani, which was especially impressive being the first Trading LIVE event the Friends organised. "Everything happened seamlessly, and the Ethembeni Service Centre received so much public and community support as a result," he said.
Student superstars
Many of the Rhodes University student sports clubs formed firm relationships with the organisations they had trades with. For instance, Rhodes University Health Suite and the Rhodes University Rowing Club both formed partnerships with the Eluxolweni Child and Youth Care Centre and plan to have weekly or monthly interactions with them. Similarly, the Rhodes University Cheerleading Club formed a lasting relationship with Raglan Road Service Centre.
"It's heartwarming to see our students becoming so involved in community engagement, and not because they have to, but because they want to and are becoming socially conscious," said Mesani. "These partnerships are testament to that."
One group that caught the attention and warmed the hearts of many people nationally, was a team of students who organised a flash mob in the Rhodes University library, in honour of Madiba.
The team consisted of Lunga Mkutswana, Lwando Ntenda, Anelisa Kelemi, Zimkhita Kweza, who worked with the Rhodes University Choir.
When he watched the video, Vice Chancellor Dr Sizwe Mabizela said; "This is so beautiful," and the Director of Marketing and Communications, Luzuko Jacobs, said he "shared it far and wide, and it is drawing amazing responses. I have to see these students."
Ujala Satgoor, the Director of Library Services, who also mass-shared the video clip said, "It is always so wonderful to see our students claiming the library space as their own and we will continue to ensure it is a desired space for students to showcase their talents at every turn."
Kelemi, who helped organise the flash mob choir, and sang with them herself, said, "People who weren't at the library told us that they saw the flash mob video and said they couldn't believe we did it in a library. It really spread. Even people who were not in Grahamstown or at Rhodes saw it and complimented us on it."
The video currently has over 1100 views, and the flash mob organisers have been approached by a few University associations and departments who are looking to hire them for similar initiatives.
Sublime staff and awesome academics
Various staff and academic groups made notable contributions during the Trading LIVE for Mandela Week and beyond. The Albany Museum hosted fun and educational museum tours for some of Grahamstown's Early Childhood Development centres.
Many staff members responded positively to a call where they not only donated a book to each of the 13 Rhodes Community Engagement Division pre-primary school partners, but also read to the children. In a follow-up call to action, Programme Manager of the ECD Literacy Programme at Rhodes, Anna Talbot, asked for more staff to join the Early Childhood Literacy Programme, and over 195 sign-ups were received.
"After the success we had from Rhodes staff reading at our local partner preschools during Trading LIVE for Mandela Week; we wanted to encourage more staff to become part of this initiative," said Talbot. "The response was well beyond our expectations."
The School of Languages took on a very ambitious project for Trading LIVE for Mandela Week, by visiting the gravesite of SEK Mqhayi in Berlin with Ntsika Secondary School leaners.
According to Dr Ntosh Mazwi, Lecturer of African Languages, the trip was a huge success. Rhodes University is the first higher education institution in the region to ever visit the site with students. "The reception we received from Mqhayi family and Buffalo City Municipality exceeded our expectations. They were very excited about our initiative to have Mqhayi's gravesite maintained."
According to Dr Mazwi, the group was quite surprised to see the gravesite spotlessly clean when they arrived. "We couldn't believe it. When we visited the gravesite last year as part of Trading LIVE for Mandela, it was difficult to get to it because of how overgrown it was. This is the reason we came up with this initiative originally, and it seems as if our awareness really helped. Our mission is accomplished."
According to Dr Mazwi, the family said they were honoured by the visit and would like their relationship with Rhodes and Ntsika to continue. "It is our further objective to campaign for the Mqhayi's grave to be declared a heritage site, which we believe is something that is long overdue," Dr Mazwi said.
To infinity and beyond
On 14 August, the Rhodes University Community Engagement Division, in partnership with the School of Journalism and Media Studies, will be showcasing the different trades that took place, in a storytelling exhibition at Eden Grove, using video, radio, writing and photography.
"We are very excited to see the outcome of our Trading LIVE for Mandela Week presented in this way. With so many events happening simultaneously, we weren't able to get a holistic overview of everything that took place. This storytelling exhibition will give us a brilliant in-depth view of the impact the initiative had on our community and those involved," said Mesani.
Monash University adopted Rhodes University Community Engagement Division's Trading LIVE model this year, and implemented the programme in their own community engagement initiatives. Furthermore, other institutions of higher learning have also shown interest.
"For us, this is a very clear sign that our initiative continues to make a very noticeable positive difference in the country," Mesani said.
Source:Communications