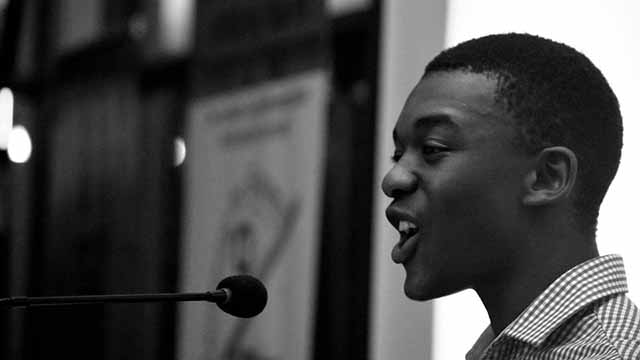 Rhodes > Latest News
Making iRhini a centre for education excellence
Date Released:
Wed, 14 February 2018 14:31 +0200
"The 9/10ths mentoring programme is like an extended family, a family we didn't choose but we are glad they are part of our lives. They want the best from and for us; they helped us learn how to care for one another's progress," an emotional address by Aphelele Jezi,Cacadu District's top performer of 2017 during the Vice Chancellor's 9/10ths mentoring programme dinner on Tuesday night.
He highlighted that his peers now have a platform to grow, to take responsibility and to decide what they want for their future. He declared that the class of 2017 will work hard, learn and help their respective communities to grow, and 'soon we will be kissing poverty goodbye'.
Jezi is one of 26 learners who have been admitted to study varying degrees at Rhodes University. A product of Ntsika Secondary School in Joza, he achieved distinctions in Mathematics, Physical Science, Life Sciences and isiXhosa, scoring 70s in English, Life Orientation and Geography.
A first for Rhodes community engagement; parents, teachers, students and mentors shared stories of the reciprocal relationship and its successes. Errol Goliath, a proud parent of a first year B.Education student personally thanked the Vice Chancellor and urged him and his team to take all the credit given on the night as a sign that Rhodes is a fully-fledged catalyst in the city.
"You took our children from dusty streets and moulded them into young people that we are incredibly proud of as parents. Not forgetting the three women that head up our three schools and Gadra Education; together you all drive a critical mission, that of alleviating poverty in our communities," said Goliath.
9/10ths is a mentoring programme geared towards equipping matric students in the three participating schools, Ntsika, Nombulelo and Mary Waters High Schools to cope with their final year of school and to pass at their full potential. Rhodes University students, through nine guided and structured contact sessions give learners one-on-one attention.
Dr Mabizela celebrated the diverse gains of the programme by using mentors as an example of the mutual benefits of an institution like Rhodes working together with its immediate community.
"Not only do these young people we are proud to call Rhodents help us realise our dream of ensuring that more Grahamstown children attend Rhodes, they also benefit from the experience of assisting the young, interacting with a diverse community and inevitably learning personal life lessons," said Dr Mabizela.
Mentors present were encouraged to continue leading by example and making sure that the youth of Grahamstown recognises the opportunity and importance of knowledge and hard work towards self and communal advancement.
Speaking after Dr Mabizela, Diana Hornby, Director for Community Engagement paid tribute to the VC for his vision. "We have great leadership in this university that is focussing on human and community development. This falls beautifully in line with the vision to re-position this institution into an engaged university that is serious about knowledge democracy," she said.
Dr Mabizela warned that students must not be content with seeing society the way it is, but should rather imagine a better world. They must work with courage and compassion.
Gadra Education, Rhodes University Community Engagement, Ntsika, Nombulelo and Mary Waters high schools and student leaders are the main role players in the programme, launched in 2016, with complimentary responsibilities.
9/10ths fall under the Vice Chancellor's Grahamstown Education Initiative, which has up to eight active projects such as Homework Clubs, Community Education in Science Initiative (CES), High Impact Supplementary School (HISS), Parent Engagement Programme, 9/10ths, School Leadership Programme, Early Childhood Development and Virtual Learning.
Source:Communications