Academics and communities break ground together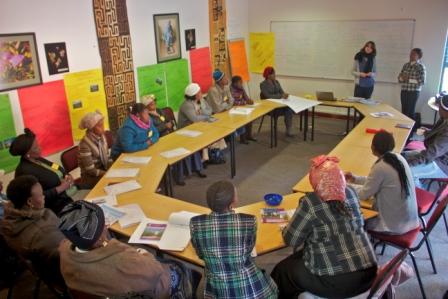 Date Released: Mon, 18 June 2012 10:59 +0200
Rhodes University's Department of Environmental Science is taking on a range of issues connected to sustainability and adaptability in communities, particularly those related to HIV/AIDS and climate change.
It's an interdisciplinary endeavor called the Jongaphambili Sinethemba Project (JSP) -- isiXhosa for "look forward, we have hope" -- and it represents a shift in modern academic research which attempts to respond to challenges that emerge through the research process.
At the heart of this process is what's known as social learning, a dynamic collaboration between researchers and communities.
The project is based at two separate Eastern Cape sites, Willowvale and Lessyton, where 10 to 13 community members have been elected by their peers to form part of the social learning groups. These groups work directly with Rhodes researchers, helping them gather information and data and disseminating it to their communities.
For the first time, group members from both sites met during a conference at Rhodes recently to discuss particular challenges and vulnerabilities in their communities, as well as ways they've developed to cope with them.
"The purpose is the exchange of ideas so people can learn from one another and go back to their community with a different perspective -- we're not proposing external solutions," said Mr Nick Hamer, JSP project coordinator.
Poultry farming, burial societies, community gardens and care groups were just some of the initiatives discussed. Even projects that were no longer running were examined with the hope of understanding their weaknesses.
Ms Nozibele Holoholo, from Willovale, has been with the project since June 2011 and already she's seen the impact of the social learning process. "I do see things have changed -- sharing information and views," she said.
Ms Holoholo described how a Canadian researcher, a partner in the project, conducted workshops to teach gardening groups how to keep food fresh and preserve it. "People didn't know about all the things you could make like jam and fruit salad, or how to keep potatoes fresh, and now people do," she said.
Designed to rollout over four years, JSP is midway through its second year. Environmental Science MSc student, Keitometsi Abu-Basutu, emphasised the importance of the less obvious "intangible benefits" in a project like this, like knowledge sharing.
Abu-Basutu worked in both communities examining the contribution of wild foods to food security and its affect on HIV and climate change. She's learned that truly sustainable community development is a process: "In human learning it's not easy to adopt certain things, it takes time -- we hope they'll learn things and share knowledge and make changes."
The conference was also intended to affirm the role of the volunteer members as vital to the project, in a sense leveling the playing field between academics and community members.
Dr Georgina Cundill, a research associate who oversees the social learning process, hoped the experience of coming to a university campus might further motivate and empower the social learning groups.
"We wanted to show them that the university is here and it's an accessible place -- a big part of [the conference] is making the university accessible," added Dr Cundill.
By Hailey Gaunt
Photo by: Tim Gaunt