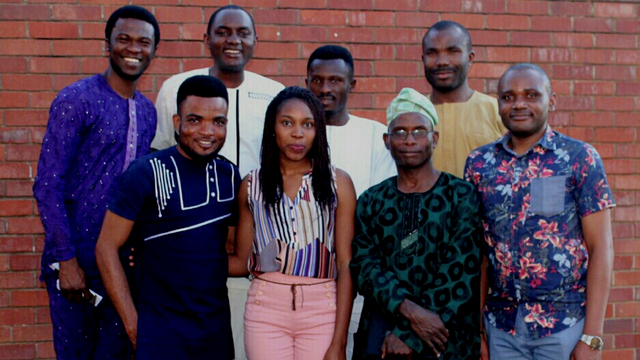 Rhodes > Latest News
Nigerians at Rhodes University meet with their Consul General
Date Released:
Thu, 22 November 2018 10:47 +0200
By Olutobi Akingbade, PhD Candidate, School of Journalism and Media Studies
Nigerians within the Rhodes University Community recently met with their Consul General, Mr Godwin Adakole Adama.
He delivered a keynote address during Nigeria's 58th Independence Day celebration organised by the University of Fort Hare wing of the Nigerian Community in Alice (NCA).
The event, held at the University of Fort Hare's Alice campus, was focused on ''Harnessing the capacity of Nigerians in diaspora for national development'', and provided the opportunity for dialogue between the Nigerians present and the Consul General.
Mr Adama, elated by the turn out and cheery mood of all attendees, conveyed the greetings and well wishes of the President of the Federal Republic of Nigeria, Mr Muhammadu Buhari.
The Consul General appreciated the diligence and determination of the students and academics present and urged them not to rest on their oars but to continually work hard and be good ambassadors of the country. Going forward, he promised to facilitate and ensure the prompt assistance of the consulate with regards to passport applications and renewals, security concerns and other bureaucratic issues.
''Rest assured that we are here to serve you and we are working closely with South Africa's department of international relations and cooperation to resolve pertinent issues,'' Mr Adama said.
Professor Edwin Ijeoma, a Professor of Policy and Public Sector Economics at the University of Fort Hare, played host to all attendees welcomed everyone to the event. In his remarks, he stressed the importance of capacity building at all levels of the society.
In the same vein, the NCA president, Mr Olusegun Ijila, a PhD Student of the University of Fort Hare, thanked all attendees and called for a greater level of unity and selfless service among Nigerians in the diaspora.
Source:Communications