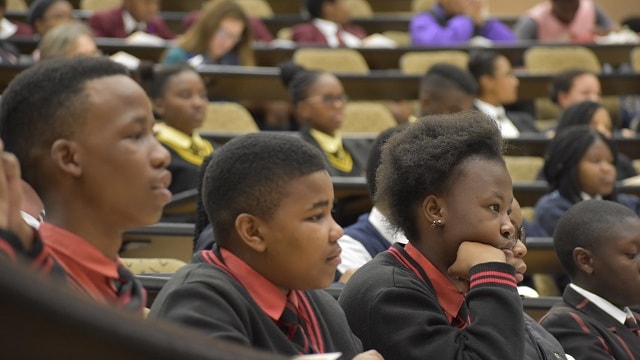 Rhodes > Latest News
Open Day both educational and fun for secondary school learners
Date Released:
Thu, 24 May 2018 13:00 +0200
This year's Open Day will see the Rhodes University campus abuzz with activity as over 300 learners from 19 different secondary schools are welcomed.
This year's participating schools are from Grahamstown, Port Elizabeth, Port Alfred, East London, and King Williamstown and include Khutliso Daniels Secondary School, Victoria Girls' High School, Gadra Matric School, Ntsika Secondary School, Mary Waters High School, St Andrews College, Diocesan School for Girls, Kingswood College, Nathaniel Nyaluza Senior Secondary School, Nombulelo Senior Secondary School, Graeme College, Alexander Road High School, Ethembeni Enrichment Centre, Douglas Mbopa High School, Khwezi Lomso Comprehensive School, Khulani Commercial High School, Port Alfred High School, Selborne College, and Dale College Boys' High School.
Compared to last year, this year's Open Day will have more than 100 additional learners attending.
Starting at Barrat Lecture Theatre Complex, the learners will be introduced to the various faculties at the University – humanities, law, commerce, science, pharmacy, and education. The majority of learners this year have expressed interest in possible enrolment within commerce, science and humanities. Although humanities continues to be the most popular faculty, there is a marked increase in interest in both commerce and science this year.
"We are very pleased with the increase in enthusiasm for our faculty this year," said Professor David Sewry, Rhodes University Dean of Commerce. "We offer small, intimate classes within a nurturing and supportive tutorial system."
This year's Open Day proceedings will include a Commerce prize-giving at Eden Grove. "The formative degrees we offer have two majors, which leads to a rounded education and opens students up to a diversity of career choices," Prof Sewry explained. "We also boast an influential alumni network that contributes creatively in both the professional and social space."
One such alumnus, Lee McCoy, who was one of the teachers chaperoning her Clarendon High School learners at last year's Open Day, had this to say, "Our learners had a wonderful visit that was both educational and fun. Being a Rhodes alumnus myself made it all the more special."
Source:Communications and Advancement Division