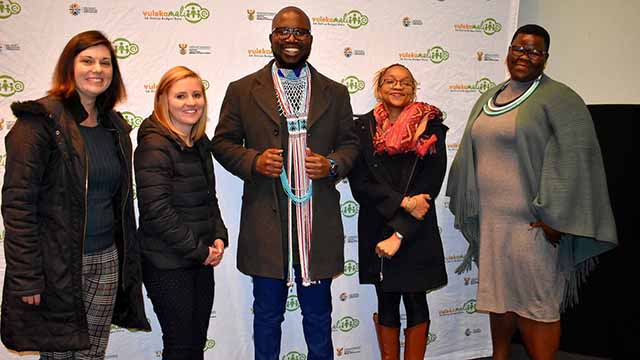 Rhodes > Latest News
PSAM hosts discussion on improving public access to government budget data
Date Released:
Fri, 13 July 2018 14:42 +0200
Rhodes University's Public Service Accountability Monitor (PSAM) gathered members from the National Treasury (NT), the Legal Resources Centre, Afesis Corplan, and OpenUp, for a panel discussion last week at Olive Schreiner Monument Hall.
The dialogue was focused on Vulekamali, an online budget data portal which was established by the National Treasury (NT) in alliance with IMALI YETHU – a coalition of civil society organisations for open budgets. Together with the NT, Vulekamali is aimed at instigating easy access to fiscal information by the public and prompt participation through a user-friendly format for effective information sharing, research, and analysis.
Management of the country's financial activity in terms of economic policies and forecasting of annual budgets has always been the responsibility of the NT, and historical discrepancies such as lack of easy access to the financial data and difficulties interpreting the data by local communities has made Vulekamali a progressive invention.
Andisile Best, responsible for budget reform in the budget office of the NT, spoke on the important features of the portal which are not available on the Treasury website. "What is different about Vulekamali, is its more interactive nature – people are able to participate with others who are also accessing the information. It is mobile, so you can view and engage with it through your mobile phone. The different formats allow for easy manipulation of information, especially for people who work with budget data, so it provides editable data," he said. The portal not only exist in virtual form, but representatives also avail themselves to personally engage with the public. "We go out and listen to the public and discuss their needs, while making people aware of the portal," he added.
With extensive public participation being one of the perceptible shortfalls , Head of Programmes at OpenUp Kirsten Pearson, elaborates on what it would mean for Treasury to go beyond transparency, especially with South Africa being ranked 1st out of a 115 countries in the 2017 Open Budget Index (OBI).
"Transparency allows activists, lawyers and the media to hold government accountable and I think we need more of that. The NT has a financial oversight role and I think NT could work with citizens to effect better oversight. Citizens see the spend of the budget in their communities, as well as when budgeted funds aren't spent effectively. It would be great to see a broadening of participation by citizens at all stages of the budget cycle," she said.
Although easy access to budget information sounds convenient, it doesn't determine effective assistance for civil society to better hold government accountable should there be any underperformances. Cecile van Schalkwyk, who is an attorney at the Legal Resources Centre (LRC) in Grahamstown, commented on this. "From a civil society perspective, we often experience challenges with budget information that is presented in number format and doesn't explain exactly what goes where and who it's supposed to benefit. So easy access will definitely allow us as civil society to litigate. Apart from trying to influence budgets, is making sure that government spends the money accordingly. There are shortfalls everywhere, but not necessarily because there is shortage in budgeting, but rather making sure that what is budgeted is implemented," she said.
Lindokuhle Vellem, a Programme Officer at Afesis Corplan in East London, particularised the challenges which are currently being experienced at the local level. "Communities are very issue-specific, so they follow what they are currently dealing with. Then you find that that kind of information at the national level is very minute. So the channels are not open and we just don't know which language to use because the municipality will make promises but never commit to them. I still feel that is where we are stuck – and that feeling of poor people being a nuisance, you know. Nobody comes in for the call from communities before they start burning or causing a ruckus," she said.
Zukiswa Kota, Head of the Monitoring and Advocacy Programme of PSAM, explained what Vulekamali has to offer at the moment to respond to pending concerns. "The space for dialogue in the portal is an important element. The portal is an agile platform and hopefully it will become flexible enough to include performance information. We are also hoping that the Departments will take ownership of the programme so there are different levels of engagement," she said.
Vulekamali involves a 3-year build programme and is currently in its first year of construction.
Source:Communications