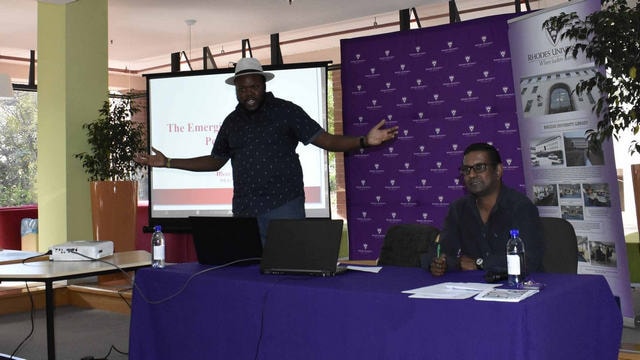 Rhodes > Latest News
Research Week launch focuses on the need for research visibility in Africa
Date Released:
Tue, 8 May 2018 14:48 +0200
Rhodes' Research Week kicked off yesterday with talks highlighting the importance of research visibility, language preservation and use and stakeholder unity.
Rhodes University Library (RUL) and the Research Office launched their second annual Research Week event at Rhodes University's Postgraduate Commons yesterday. Research Week will run over the remainder of this week.
This year's theme, "In support of Emerging African Academics and Researchers", continued the event's tradition of presenting a personal roadmap to guide emerging researchers and academics.
Larshan Naicker, the Head of User Services for Rhodes' Library, welcomed postgraduate attendees and emphasised the need for thesis and citation visibility.
"Although Africa is producing outstanding research, it is not as visible as research from first-world countries," he explained. "Getting it out to the world necessitates cooperation between all of the stakeholders involved – the Research Office, our Library, and yourselves, as the researchers."
Debbie Martindale, Librarian of Scholarly Communication at Rhodes shared her knowledge on the various open access publishing platforms that can assist researchers in maximising visibility, including RefWorks, LibGuide, and Mendeley. She also explored the various digital options related to self-archiving such as PubMed, arXiv.org, PLOS, DOAJ, Elsevier, SAGEOpen, and Publish Open Select.
Finally, she explained the benefits of ORCID, which uses social media technology to ensure a researcher's various name and thesis title permutations are picked up by relevant search queries.
To conclude the first day's proceedings, attendees were treated to a very informative and inspiring presentation by Dr Hleze Kunju, whose thesis made history as the first to be written in isiXhosa at Rhodes University.
Kunju's research took him to Xhosa-speaking communities in Zimbabwe, and it was there he learned about the importance of social media in African communities. "Social media, as a tool that brings people together, promotes culture, and increases language preservation, is a great tool to use as part of your research and for research visibility, where possible," he explained.
According to Naicker, Hleze's journey is a perfect example of how technology plays an integral role in research, even when one is involved in doing a study in a remote rural area.
"Technology is the only thing that will take your research from local to global," Naicker said.
Source:Communications