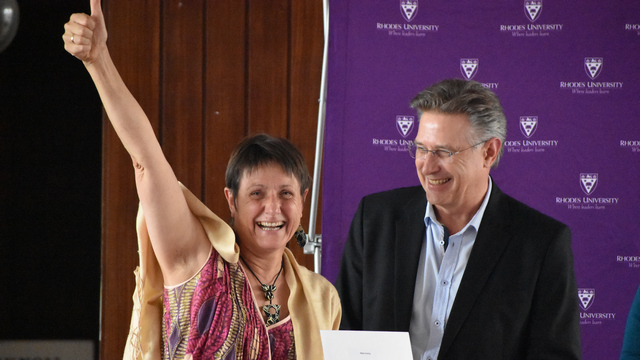 Rhodes > Latest News
Rhodes' final goodbye to 2018 retirees
Date Released:
Thu, 22 November 2018 13:05 +0200
On 20 November 2018, Rhodes University bid farewell to its retirees at a retirement function held at the Institution's Senior Common Room.
"It is befitting for Rhodes University to be celebrating you today. You have been amazing in the operation of the university," opened Human Resources Director, Ms Loshni Govender.
Amongst attendees were Deans of Commerce and Pharmacy, Professors Dave Sewry and Santy Daya.
Thanking the retirees, Deputy Vice-Chancellor of Research Dr Peter Clayton, said, "We are proud of how you continued to serve this institution for so many years and we hope that you will enjoy your time of rest with your families." Dr Clayton made special mention of Recruitment Assistant, Mr Lulamile Michael "Bra-Mike" Marangxa, who has served the institution for 37 years, and is the longest serving current retiree.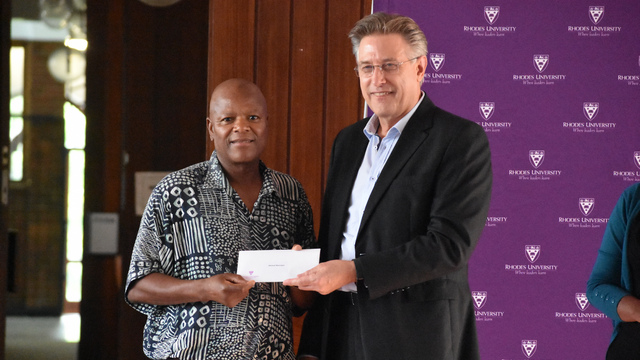 Other retirees are:
Ms Eleanor Anderton, Office Administrator- 28 years
Mrs Sylvia Armstrong , Housekepper – 20 years
Mrs Lynette Bodill, Senior Telephonist - 28 years
Mr Danisile Booi, Pruner - 28 years
Mrs Lydia Botha, Cook – 16 years
Ms Liziwe Fosi, Housekeeping Attendant – 20 years
Prof Alan Hodgson, Professor - 35 years
Mr Patrick January, Technical Assistant - 35 years
Ms Nikki Kohly, Safety & Health & Environmental - 9 years
Ms Nozithembiso Kolweni, Cleaner - 20 years
Prof Jonathan Lancaster, Associate Professor - 31 years
Mrs Buyiswa Manyati, Cleaner - 34 years
Mr Michael Marangxa, Recruitment Assistant - 37 years
Mrs Joyce Miya, Caterer - 35 years
Mr Malusi Mzangwa, Technical Assistant - 36 years
Ms Nomfuneko Ngalo, Administrative Assistant I - 20 years
Mr Thobile Nontyi, Principal Technical Officer - 34 years
Mr Jeffrey Qubuda, Gardener - 33 years
Mr Zwelakhe Ralo, Sportsfield Attendant - 30 years
Mrs Auria Soyeye, Cleaner - 34 years
Mrs Fiona Still-Drewett, Principal Librarian - 23 years
Mr Nzame Tleki, Botanical Assistant - 19 years
Prof Marius Vermaak, Associate Professor - 33 years
Prof Daniel Wylie, Professor - 23 years
Other staff who are due to leave at the end of this year are Prof Daya and Director of Library Services, Ms Ujala Satgoor.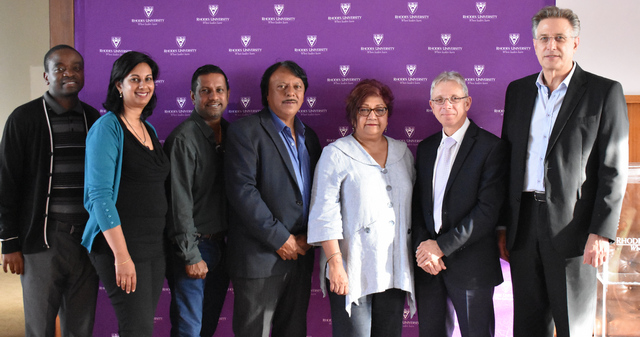 Source:Communications