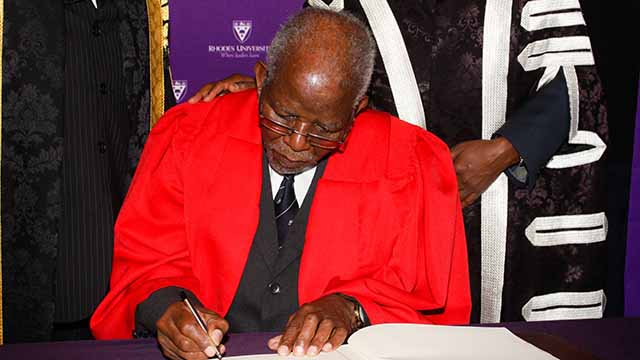 Rhodes > Latest News
Rhodes graduation ceremonies commence
Date Released:
Thu, 5 April 2018 18:07 +0200
By Sean McCabe
Professor Emeritus Peter Mtuze was today conferred with an Honorary Doctorate at the first of the six graduation ceremonies taking place at Rhodes University this week.
At the start of the ceremony, Rhodes Chancellor, Judge Lex Mpati called for a moment of silence in honour of stalwart, Winnie Madikizela-Mandela who passed away earlier this week.
Rhodes University's Vice-Chancellor Dr Sizwe Mabizela addressed the gathered staff, family members, and more importantly the graduates, with a heartwarming and motivational speech. His words were words offered encouragement, and implored graduates never to give up their values and to use the skills they have learnt to make the world a better place.
"The choices you make now will shape the person you will become and form the legacy you will leave," he said. "Be courageous – and remember, courage is not the absence of fear, but the triumph over it."
Mtuze's story is one of hard work and determination. After failing matric, he became in involved in the Church and the African National Congress (ANC). He finished his matric in1971 and enrolled at Rhodes University where he obtained a BA in translation at Rhodes in 1980. This was followed by an Honours degree from UNISA in 1984 as well as an MA in 1986 in African Languages. He was the first black Professor at Rhodes University and is currently the President of Convocation at the University.
Bestowed with a Doctor of Letters (DLitt), Mtuze's speech focused on encouraging graduates to work hard, to be united, and to constantly strive to do better.
"If I can suggest anything to you as young, energetic and gifted graduates of this highly regarded institution it is unity, unity and unity," he said. "We need one another in order to secure the future of this beautiful country."
By the end of the ceremonies on Saturday, 2 494 students will have received their degrees or diplomas.
Source:Communications