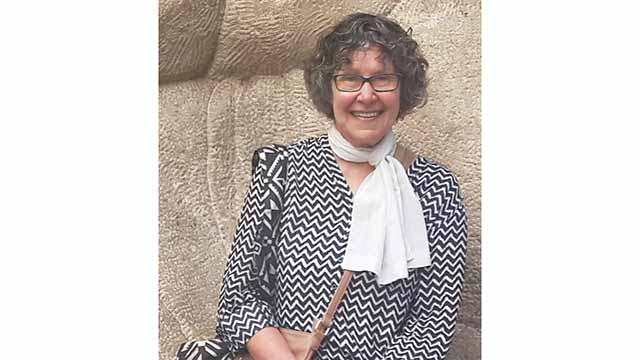 Rhodes > Latest News
Rhodes professor catches up with life in immeasurable ways
Date Released:
Mon, 7 May 2018 09:22 +0200
By Ikhona Mvaphantsi
If you feel you are a veritable late-bloomer with limited time, take comfort in the fact that Rhodes Faculty Researcher of the Year 2017, Professor Lilla Stack, learnt to swim at a seasoned 75 years of age – and she only started her academic journey at 32.
Prof Stack has racked up a long list of achievements over almost four decades in academia. Some of her more recent accomplishments include being named among the Top 30 Researchers at Rhodes University for three consecutive years - 2014, 2015 and 2016. Furthermore, in the last three years alone, she has graduated 25 Masters and Doctoral students in Taxation.
Born in 1941 to an engineer father and a mother who had been a commercial artist, Prof Stack's life journey could easily have ended up like her mother's – getting married, giving up her career, and staying home – an all-too-familiar life choice in the days where women were usually expected to trade in their personal goals and dreams for the care of her family. And dreaming of a rewarding and elaborate academic career was an especially fanciful one if you came from a background like Prof Stack's, where every penny counted.
"As we were not at all well off, my father could not afford to send me to university and I only enrolled for a degree at the University of South Africa (Unisa) later in life. At 32, I was working a full day, studying and looking after my young daughter. It was quite tough, and I used to get up at 3am in the morning every day to study and I put in long hours over the weekend. I completed all my studies, however, right up to PhD level."
The reason why Prof Stack decided to study accounting, was because qualifying as a Chartered Accountant was the easiest way to study part-time while earning a reasonable salary. "My interest in taxation started when I was employed as a tax lecturer at Unisa," she recalled.
In 1981, a year after she completed her articles and was admitted as a CA, Prof Stack began to rise through the ranks. By the time she left Unisa, Prof Stack had occupied the roles of acting Vice-Principal of Finance and Registrar of Finance and Operations during "turbulent times for the university, with strikes by all the three trade unions and violent student protests."
Prof Stack joined Rhodes in 1998, where she devoted most of her time to teaching.
"I was pleased to receive the Faculty Researcher of the Year Award last year, but I felt that I did not fully deserve it, as my 'claim to fame' is based mainly on the number of graduates I help, and not research."
Prof Stack is very fond of her students. "I love teaching and I have had very few difficult students – probably no more than five in all the years. I am also very passionate about empowering students of all races through the medium of their studies," she added.
Furthermore, Stack has constantly challenged herself to do things over-and-above what is required of her such as writing textbooks, designing and introducing the Master's degree in taxation, studying and writing on research as well as training fellow academics at other universities.
"This is my last year under contract and I have been at retirement age since 2006. I do have other plans, though. I have been invited to assist with supervision in the tax department at Unisa, and Oxford University Press has asked me to collaborate on developing e-learning materials on research in tax. There is also the book that I would love to write to guide young entrepreneurs in matters of business and finance, from starting a Spaza shop to registering a company."
It seems, for Prof Stack, the saying, "It is never too late to be what you might have been" will always hold undeniably true.
Among Rhodes graduates this year was Lilla Stack's two PhD students, Jackie Arendse and Teresa Pidduck and two of her nine Masters students, Edward Horn and Qhinga Mkonza.
Source:Communications