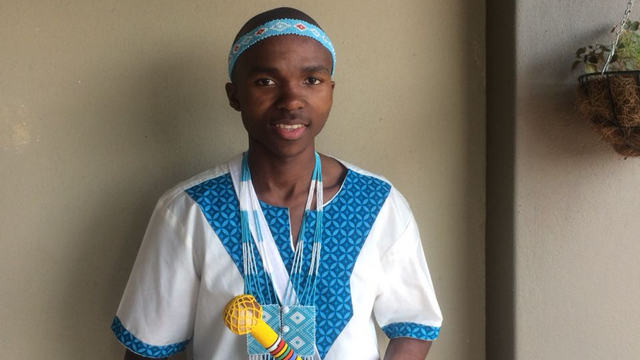 Rhodes > Latest News
Rhodes student a poetry 'bright star'
Date Released:
Tue, 4 December 2018 09:07 +0200
By Tswelopele Maputla, fourth year Bachelor of Journalism student
Third year Bachelor of Music student, Asakhe Cuntsulana recently published his debut anthology, Ikhwezi Eliqaqambileyo. After completing the Via Afrika WritePublishRead online course, 21-year old Cuntsulana gracefully adds 'self-published author' to his biography.
Cuntsulana attributes his love for isiXhosa to his upbringing in the small village of Qwaninga, Eastern Cape, where he was raised by his grandmother and great-grandmother. The dialect used in the village has shaped his interest in writing and performing. "They only use deep isiXhosa words, for example they call water imvotho, not amanzi which is the more commonly used word," he said.
His love for the language grew deeper when he learnt about idioms and started reciting poems at school assemblies. By the age of 13, he was writing regularly. "Sometimes, I would hear a stream of words coming to my mind and quickly record it on the phone in order to hold on to the memory," he said.
Fast forward to 2016, his first year at Rhodes, when Cuntsulana was clear about his intentions to be published. "Dr Mhlobo Jadezweni [Rhodes University African Languages lecturer] encouraged me to approach local newspapers like Grocott's Mail and I'solezwe to get my name out there," he said.
Through his poetry, Cuntsulana makes social commentary and asserts his pride for being an African. One of his poems Bamenzile which loosely translates to 'they have made her/him', is about the different encounters people have during their life journey, and how that shapes their perception of the world. "I wrote it specifically for women in the African context who have been influenced by friends and have adapted bad behaviour like being rebellious and going against the norms and standards the family has set," he explained.
Bamenzile was inspired by one of Dr Jadezweni poems. "I structured it like his poem Soshanguve. When it was finished,I was so impressed; it was an amazing feeling," he proclaimed.
As it stands, his anthology is only available online, which is something he wishes to change. "I want people from the outskirts, who don't have access to online platforms to have access to my work," he said. Cuntsulana aims to inspire those who come from humble beginnings like himself. "Even though you're born into a disadvantaged background, there are ways that you can uplift yourself," he said.
Ikhwezi Eliqaqambileyo is available for purchase on
https://www.kobo.com/za/en/ebook/ikhwezi-eliqaqambileyo
‌
Source:Communications