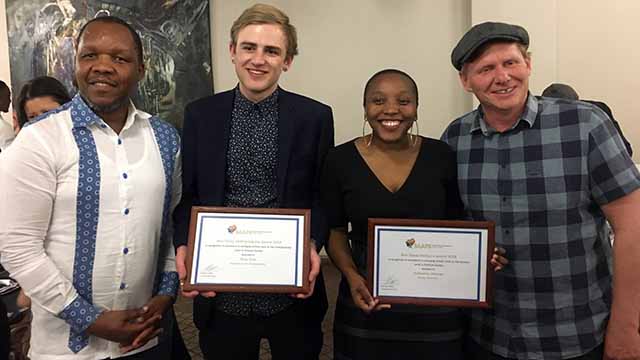 Rhodes > Latest News
Rhodes student recognised for paper on nakedness as political resistance
Date Released:
Tue, 6 November 2018 09:47 +0200
By Tswelopele Maputla, fourth-year Bachelor of Journalism and Media Studies student
Gcotyelwa Jimlongo, a Political and International Studies post-graduate student won Best Honours Essay at the South African Association of Political Studies (SAAPS) conference held in October.
Jimlongo described the three-day conference as a golden opportunity where she met some of her favourite scholars. "All the people I've read about and whose work I've read were there. Honestly, I was star struck!" she exclaimed.
No stranger to golden opportunities, however, the 21-year old has been a member of the Golden Key society since 2016. Despite her mounting accolades, Jimlongo remains humble and is yet to celebrate her most recent win. "I could hardly believe it," she said. "I still don't, but I'm trying to and I think it's a process for me to believe it and understand it."
Her winning paper, "When women have reached the end of their politics: nakedness as political resistance", was inspired by her experiences as a black woman and those of the generations before her. "I started thinking about the fact that, as a black woman, my very existence is a form of resistance. So if my existence is resistance, how much more so is my nakedness? I knew there was something there," she explained.
In her thesis, Jimlongo writes: "In African societies, the body of a woman becomes a tool to speak; to convey a message and to ultimately resist oppressive systems."
The paper creates a historical thread of nakedness for political resistance using the Liberian Women's Peace Action Movement of 2003, the Kenyan women activists in the Green Belt Movement in the '80s and the naked protest in #RUReferenceList in 2016 as prime examples. Jimlongo said she found this necessary because "for so long, black women have been relegated to the periphery. I just wanted to make the assertion that we have political agency and we can speak and use our bodies as political tools".
African Feminist Theory lecturer, Shingirai Mtero, who sees Jimlongo's work as an invaluable contribution to decolonial scholarship, had the following wise words to say: "The utility of her winning is not only for the content of her work, it also proves that our work, specifically African feminist scholarship, is just as academically rigorous, thought-provoking and inherently political as any other discipline."
Source:Communications