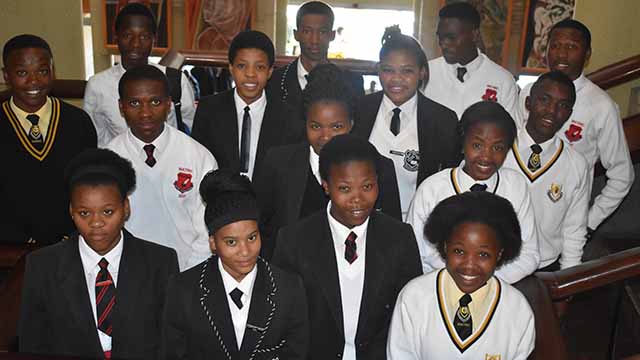 Rhodes > Latest News
Rhodes to screen graduation ceremonies at local community venues
Date Released:
Wed, 4 April 2018 16:12 +0200
In a bid to create more access for learners to the Rhodes University graduation ceremonies taking place from 05 to 07 April, Rhodes University will this year screen the ceremonies to local schools.
A first of its kind, this initiative in collaboration with the Department of Government Communication and Information System (GCIS), the Department of Education and participating schools will see the screenings done via video link at the Nombulelo and Mary Waters High Schools. These screenings are aimed at Grade 11 and Grade 12 students and their parents. Graduates from local communities will attend the screening events, with the aim of sharing their university experiences and inspiring the students to aspire to graduate.
"We are very excited about pioneering this very vital educational initiative," said the Director for Communications and Advancement, Luzuko Jacobs. "We view this not as an act of charity, but as an essential part of recognising the collective humanity and shared destiny of the community we live and study in."
Nosipho Nkwinti, Senior Coordinator: Community Relations and Student Organisations at Rhodes University's Community Engagement, who has been actively involved in this initiative since inception, is very passionate about the positive changes to the Grahamstown community this initiative aims to effect.
"I hope that this will be the beginning of a new dawn for all the children of Grahamstown who have never even dreamt of gaining access to Rhodes, to realise what is possible," she said. "We hope to illustrate, by fostering these kinds of initiatives that Rhodes is not only in Grahamstown but it is for Grahamstown."
So far, according to Nkwinti, the screening project has enjoyed a lot of positive feedback. "Our screening initiative has been welcomed with great exhilaration by the Department of Education and the responses by school principals and deputy principals have been very encouraging," she explained.
According to Mr Ndlelantle Pinyana, Director at the GCIS, "we are thrilled to be involved in such a noteworthy initiative. It speaks directly to our strategic goal of facilitating the increase of access to information throughout South Africa."
When asked why this project has held such personal interest for her, Nkwinti recalled, "I was a child once, completely clueless about what happens during a graduation ceremony. Fortunately, my father had a photo of himself in his graduation gown and mortarboard mounted on the wall at my childhood home, and I was motivated to have my picture next to his one day. My personal wish is that the students viewing the graduation at our screenings can be similarly inspired."
As a means to expand the project even more in future, Nkwinti explained how, going forward, this initiative aims to become inclusive of all Makana Municipality schools in the Sarah Baartman district. "We have been urging all Government Departments who are passionate about education to support this initiative. We also hope to strengthen the partnership with stakeholders who can assist in making this possible."
"It has always been a goal of our University community to empower the local community around education. The screening initiative forms an important part of making education fashionable. I feel privileged to be involved in seeing a dream of so many of us come to fruition, bit by bit and a single small step at a time," Jacobs concluded.
Source:Communications