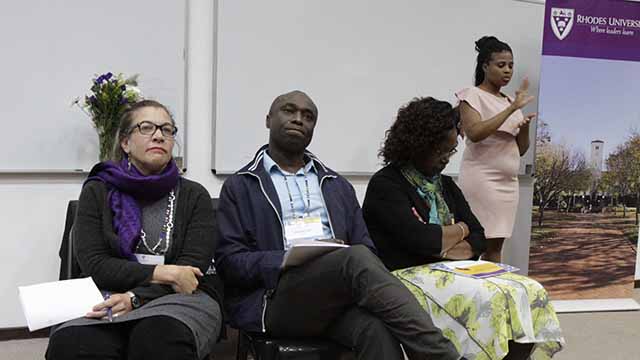 Rhodes > Latest News
Rhodes University celebrates three African Reproductive Justice Champions
Date Released:
Wed, 18 July 2018 09:17 +0200
Rhodes University recently commended three African reproductive justice champions during the Abortion and Reproductive Justice: The Unfinished Revolution III conference held on campus during 8-12 July 2018, and hosted by the Critical Studies in Sexualities and Reproduction (CSSR) research unit and partners.
Three exceptional individuals received a Champion Award in three categories: Health & Service Delivery, Research, and Advocacy & Activism. Each of the awardees were celebrated for dedicating their life's work to fighting for the rights of women in their own home countries, and for their exemplary work for reproductive justice advocacy in Africa.
"The Champion Awards are the first of its kind, recognising the amazing contributions of those that are working to ensure reproductive justice in their small parts of the world. These awards are in recognition of individuals who have devoted extraordinary time and effort to ensure women have access to safe, affordable and non-discriminatory abortion services," explained conference committee member, Dr Jabulilie Mavuso. Mavuso is a former PhD student of the CSSR and has conducted a project that explores health service providers' and womxn's experiences of pre-termination of pregnancy counselling in abortion facilities across the Eastern Cape.
The recipients of the Champion Awards were Monica Oguttu, Chimaraoke Izugbara, and Marion Stevens.
Monica Oguttu – Health and Service Delivery Award
Monica Oguttu is the founding Executive Director of the Kisumu Medical and Education Trust (KMET), an indigenous organisation established in Kenya in 1996 to promote innovative health and education among underserved communities, including adolescent girls.
"We started task shifting before anybody else started task-shifting. The task-shifting and sharing that we are talking about today, started way back in 2002 for us. That was the time when we decided that we needed to talk about the abortion issue, because where there is no doctor, there is a nurse or a mid-wife. We need to take services to where the women are," Oguttu explained. "Trust women, because they know themselves."
In Kenya language matters a lot, said Oguttu, so they renamed 'abortion' to 'medical uterine evacuation' in order to reduce stigma. "We started with one clinic in Kisumu, and we now have 185 clinics country-wide in Kenya."
Chimaraoke Izugbara – Research Award
Dr Chima Izugbara, originally from Nigeria, currently directs the Global Health, Youth and Development research portfolio of the International Center for Research on Women (ICRW). Previously, he directed the Population Dynamics and Reproductive Health Program at the African Population and Health Research Center (APHRC) in Nairobi, where he led their groundbreaking work to understand the dynamics that affect reproductive health and sexuality, particularly for adolescents and youth in sub-Saharan Africa.
His journey began after his first girlfriend died from having an unsafe abortion. "I realised that she was actually a victim," he explained. He identified the key issues in Nigeria that led him to further dedicate himself to abortion advocacy, "We have very restrictive laws around abortion in Nigeria, we have a big problem with stigma, and finally, there is limited knowledge and education about abortion."
Marion Stevens – Advocacy and Activism Award
Marion Stevens, from South Africa, has an academic background as a midwife, in medical anthropology and in public and development and management. She has worked in the area of sexual and reproductive justice for over 35 years. As a midwife, she witnessed the injustices of compounded inequalities during apartheid. After further studies, she worked at the Women's Health Project from 1994. She was the policy analyst for the 1994 SA Women's Health Conference leading to the drafting of the new abortion law.
She led the formation of the Sexual and Reproductive Justice Coalition in 2015. "We have new energy, ideas, leadership, lots of disruptive thoughts, and lots of amplifying each other's work. Whether it is in the media, litigation, or a clinical referral. A lot of it, I'm afraid, is coming from our own household budgets, because we are operating on the smell of an oil rag."
According to Stevens, too few facilities offer termination of pregnancy services. "There is no response, no leadership, no voice," she said.
Source:Communications