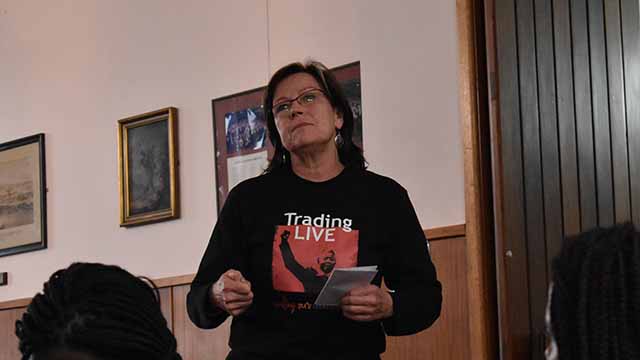 Rhodes > Latest News
Rhodes University celebrates two 100th birthdays on Mandela Day
Date Released:
Thu, 19 July 2018 12:50 +0200
Rhodes University recently commemorated two exceptional individuals – Nelson Rolihlahla Mandela and Jane Funiwe Mahlakahlaka, on their 100th birthday.
As part of Nelson Mandela's centenary celebrations, Rhodes University's Community Engagement division has been running its Trading LIVE for Mandela Week initiative, in service of humanity.
The project, taking place between 18 and 24 July, will see a total of 155 community engagement events take place across Grahamstown, a record compared to the previous four years since its inception.
Trading LIVE was officially launched on Mandela Day, 18 July, with the first 26 events running without a hitch and an honorary cake-cutting celebration taking place at Rhodes.
"I'd like to welcome you all to celebrate the centenary of the birth of the founding father of our nation, President Nelson Rolihlahla Mandela. Among other things, Nelson Mandela bequeathed us the legacy of reconciliation and forgiveness," Rhodes University Vice-Chancellor, Dr Sizwe Mabizela, said.
"In my mind, the most fitting tribute you can give Mandela is to continue investing in this legacy, by ensuring that you give a sense of hope to those who still remain in the margins of social and economic development. There are many who are still not enjoying the benefits of the transition we made in 1994, and you don't have to look further than Grahamstown to see evidence of the stark realities of our past."
We must remain committed to reducing poverty, and in equality in our society. "We must create opportunities for the development and advancement for the less advantaged among us. We must fight racism, sexism, xenophobia, homophobia, and all other forms of prejudice, bigotry and intolerance. These are the things Mandela fought against," Dr Mabizela said.
Remember each of us has an important contribution to make, he said, if this kind of society is to be realised. "So on this auspicious day, let us recommit ourselves to the values and the principals that Mandela stood for. As you go out to make a contribution in one way or the other, please make sure that you do not do this as an act of charity, but that you do it as a recognition and an affirmation of our common humanity and our shared destiny."
Rhodes University Community Engagement Director, Di Hornby, made mention of an exemplary group of individuals who call themselves The Friends of Ethembeni, and their work in organising a 100th-year birthday celebration for Funiwe Jane Mahlakahlaka, which was held earlier that day at her home, Ethembeni Service Centre for the Elderly.
"You will remember when Madiba retired, he said to us 'I am handing my baton over.' And I think The Friends of Ethembeni perfectly embody this concept," she said. "I want to remind everyone that Trading LIVE for Mandela Week is about recognising that everybody has got assets, and everybody has got something to give. And this coming week is about creating spaces for everyone not only to give, but to share."
The party for Ms Mahlakahlaka was organised by the Rhodes University Community Engagement Team, the Friends of Ethembeni, the staff at Ethembeni Service Centre, and the Makana Library, who also handed out blankets to the residents.
Dr Peter Clayton, Rhodes University's Deputy Vice-Chancellor of Research, addressed Ms Mahlakahlaka, "We see you as the twin sister of uTata Madiba – not only because you were born on the same day, but also because you stood for the same values. We know you were also in prison for what you believed in. From us at Rhodes University, we wish you a very, very happy day, and we thank you."
Source:Communications