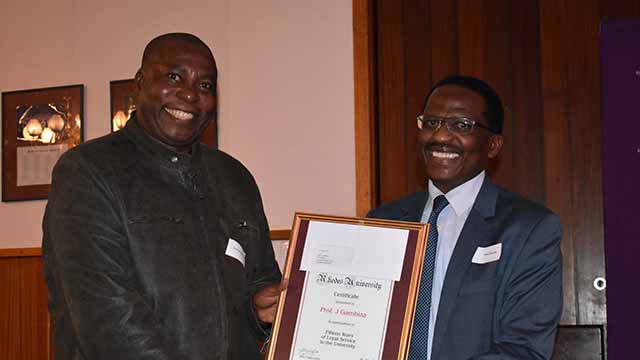 Rhodes > Latest News
Rhodes University honours long-service staff
Date Released:
Mon, 18 June 2018 12:24 +0200
Rhodes University academic, administrative, and support staff gathered in the Senior Common Room to celebrate those who have been in service at the University for 15, 25, and 35 years.
"This evening, we celebrate the combined service of 795 years of 45 of our colleagues," said Rhodes University Vice-Chancellor, Dr Sizwe Mabizela. "This is one of those special days set aside in our university calendar to recognise, and pay special tribute to our colleagues who have served this university loyally, and with great dedication and commitment, for a considerable amount of time."
Two staff members received an award for 35 years of service, eight for 25 years, and 35 staff members were acknowledged for being employed by the University for 15 years.
Dr Mabizela stated that long-service is something very special these days, since the notion of job-for-life is changing dramatically with each passing day. In the past, it was standard practice to stay in one job for an entire working career. These days, however, spending five to 10 years in one organisation or institution is seen as a long service.
"Indeed, indications are that people will change their jobs and careers at least 15 times in their working life," Dr Mabizela said. "We are therefore very privileged to be able to celebrate such long service. And it is the loyalty, education, commitment, and hard work of these individuals that has enabled us to build and sustain this university as a place of knowledge, as a place of hope, and as a place of opportunity for all."
To the long-service awardees, he said, "You've seen this university grow and change over time. And in the process, you have made your own unique and special contribution to help make this make this university the great institution that it is today."
The latest long-service award winners are:
Mr Xolisile Matiso 35
Ms Nontuthuzelo Faku 35
Mrs Anna Goosen 25
Ms Moira Japp 25
Mr Deon Evans 25
Prof Di Wilmot 25
Mrs June Mcdougall 25
Mrs Lindisa Nombewu 25
Ms Lyndrianne Myers 25
Mr John Gillam 25
Prof Michelle Dold 15
Mrs Veliswa Kila 15
Prof Janice Limson 15
Mr Mthetheleli Sentile 15
Prof Silvester Simango 15
Dr Brendan Wilhelmi 15
Mrs Brenda Meyer 15
Miss Sibongile Mkwetshana 15
Prof Craig Peter 15
Mr Charles Botha 15
Mrs Angela Bezuidenhout 15
Ms Kholiwe Fundani 15
Mr Thomas Haywood 15
Miss Nontuthuzelo Hopshire 15
Mr Sandile Klaas 15
Mrs Georgina Mantolo 15
Mrs Xoliswa Qangule 15
Mrs Deborah Yamiso 15
Mr George Damana 15
Mr Edward De La Rey 15
Mrs Sonia Kivitts 15
Mr Kevin Rafferty 15
Mrs Susan Rionda 15
Prof Barry Irwin 15
Prof Catherine Foxcroft 15
Miss Nandipha George 15
Mr Michael Kewuti 15
Mr Simwogerere Kyazze 15
Miss Mampho Onceya 15
Prof Susanne Vetter 15
Mr Xolisile Tyotha 15
Prof Joanna Dames 15
Prof James Gambiza 15
Mrs Ntombekhaya Zweni 15
Source:Communications