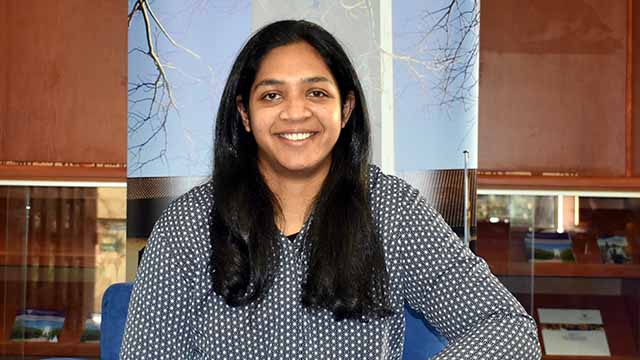 Rhodes > Latest News
Rhodes University student wins two illustrious awards
Date Released:
Fri, 24 August 2018 10:14 +0200
Zakeera Docrat, a full-time registered doctoral student in African Language Studies in the School of Languages and Literatures at Rhodes University, recently won two esteemed awards, including a Women in Science Award for the DST-Albertina Sisulu Doctoral Fellowship: Humanities and Social Sciences.
In July, Docrat's MA thesis was recognised by the African Languages Association of Southern Africa (ALASA) at its 19th interim conference. Docrat's thesis, entitled "The Role of African Languages in the South African Legal System: Towards a Transformative Agenda" won ALASA's "Most outstanding MA thesis in Southern Africa in the area of African Languages" award.
When Docrat's name was called, she was initially shocked. "It took a while to sink in, but when it did, I was elated," she said. "I'd been working on this project for two years, and putting in so much time and effort, that it was truly overwhelming for it to be recognised in such a direct way."
Before winning this esteemed award, she attended several of ALASA's annual conferences as a delegate. "During the award ceremonies, I'd watch the awardees – all of them respected scholars from Southern Africa – and think, 'Wow, I'd love to be up there one day.'"
Docrat always knew she wanted her thesis to make a difference to society. "I believe research should be about helping people," she said. "Even if you help a single person, as long as your research makes a difference, I feel you have achieved something worthwhile."
Docrat feels ALASA's recognition of her thesis provides an excellent platform for it to be promoted and publicised. "Which is great, because the more publicity the research gets, the greater the chance it will positively affect other South Africans."
South African Women in Science Awards
More recently, Docrat received a Department of Science and Technology (DST) fellowship award at the South African Women in Science Awards (SAWiSA). The awards recognise and reward excellence by women scientists and researchers, and profile them as role models for younger women.
The 2018 SAWiSA awards were presented on 23 August 2018 as part of the DST's celebration of Women's Month.
"It's nice to see females coming through the system in academia," said Docrat. "I currently find myself in academia predominantly occupied by male colleagues, while the legal fraternity, being male-dominated, unfortunately does not place emphasis on the need for forensic linguistics."
Professor MK Ralarala, who is the director of the Fundani Centre for Higher Education Development, said, "This award offers an important opportunity for Ms Docrat to immerse herself in this valuable and fairly unknown discipline, thus creating a wider forensic linguistics research network in and beyond Africa. Her work is worthy of support and reward and will make a genuine contribution, both to South Africa and the broader academic community in the humanities."
Her PhD supervisor and mentor, Professor Russell Kaschula, who is the NRF SARChI Chair in the Intellectualisation of African Languages, Multilingualism and Education in the School of Languages (African Language Studies) at Rhodes University, is very pleased that her Master's thesis and now her PhD is receiving so much attention.
"Ms Docrat's PhD will be an original, innovative, holistic critique and analysis of language rights as they pertain to South Africans, both from a historical and contemporary perspective, as well as presenting an international comparative analysis," he said.
As part of her PhD, Docrat is embarking on an international comparative study between Canada, Belgium, and India alongside South Africa. It will provide an in-depth analysis of the linguistic requirements of law graduates against a historical backdrop, emanating from 1927, when Afrikaans and English became the language of record, up to the present.
"Her work is interdisciplinary, covering areas of sociolinguistics, language and law. This in itself brings great strength and originality to her research. For this reason, I believe her research is gaining wide recognition, both locally and internationally," Prof Kaschula said. "She is an exceptional student whom I believe is doing innovative work, while setting the scene for a transformative legal environment where language and its role in the courtroom is fully researched and concrete recommendations will be made."
Source:Communications