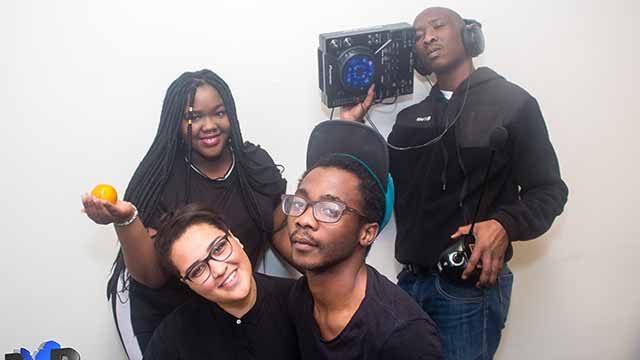 Rhodes > Latest News
RMR nominated for a prestigious radio award
Date Released:
Thu, 29 March 2018 14:17 +0200
Rhodes Music Radio's (RMR) breakfast show has been nominated for a Liberty Radio Award.
The Liberty Radio Awards have been recognising excellence in the radio industry since 2010 and are the only industry-wide radio awards in South Africa. This includes community, campus, and public radio.
RMR, which is South Africa's oldest and first campus radio station, has been selected as a nominee in the Best Breakfast Show (Campus) category. The nomination comes after the show scored an appealing sponsorship from Standard Bank at the start of this year.
The RMR's Breakfast Show team includes Producer Chelsea Ogilvie, who is a Journalism 4 student, Anchor and Manager Raymond Mojapeleo, who is an MA Journalism student, and "sidekicks" Siphiwo Mangcagaza, a Post-Graduate Diploma in Marketing Management graduate, and Aphiwe Myolie, a Journalism 2 student.
Listeners may vote for RMR as their favourite radio station via the My Station competition and stand a chance to win a cash prize of R40 000 and two tickets to the Liberty Radio Awards Gala Dinner. Visit http://libertyradioawards.co.za/my-station to vote before 3 April 2018.
The Liberty Radio Awards will take place on 14 April 2018 in Johannesburg.
Source:Communications