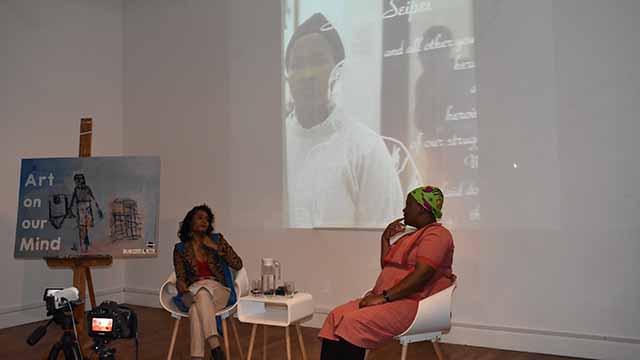 Rhodes > Latest News
The end of the perpetual performance Theodorah
Date Released:
Wed, 2 May 2018 11:23 +0200
Last week, the School of Fine Arts hosted cross-disciplinary artist Senzeni Mthwakazi Marasela in a creative dialogue at Rhodes University, during its launch party for the Art on our Mind Research Project and website (www.artonourmind.org.za).
The dialogue is the first of three for the year under the project Art on our Mind, which is an NFR Thutuka-funded research project. Marasela and Dr Sharlene Khan engaged in a creative dialogue that delved into her comprehensive body of work which includes photography, video, prints and mixed medium installations involving textile and embroidery.
Marasela was born in Thokoza, in Ekurhuleni, Gauteng to Xhosa parents. Her father worked as an administrator for the police service until his retirement in 1991. Both her parents are currently in their eighties.
Marasela's love affair with art started at St Dominic's Catholic School for Girls in Boksburg where she was inspired by her teacher Gill Blair and a trip to the University of Witwatersrand's (Wits) art school.
"My parents wanted me to become a doctor," she recalled. "Up until then, my encounters with art in the homestead had been very limited, and being an artist was not considered a proper job."
In 2003, she began the project Theodorah Comes to Johannesburg where, through her performance as Theodorah, she tells of her mother's travels from the rural area of Mvenyane to Johannesburg. "I needed to tell the story of my mother and other black women like her," she explained.
Marasela's Theodorah shines a stark and realistic light on the dehumanisation of black women during the oppressive apartheid regime in the 1960s. As Theodorah, who she now considers her alter ego, Marasela started to perform in an yellow seshoeshoe dress in 2013, which was given to her by her mother. Through becoming the embodiment of art, Marasela turned Theodora into a perpetual character performance and she has since amassed 38 different versions of the "Theodora dress".
"There is both power and difficulty in living my art," said Marasela. "To others, my Theodora dresses signify poverty and illiteracy, and when I enter professional spaces, I am usually immediately turned away and rejected. I am disrespected all because of a dress and the associations people have of it."
The project is now in its final year and will end with a grand finale performance later in the year.
Source:Communications