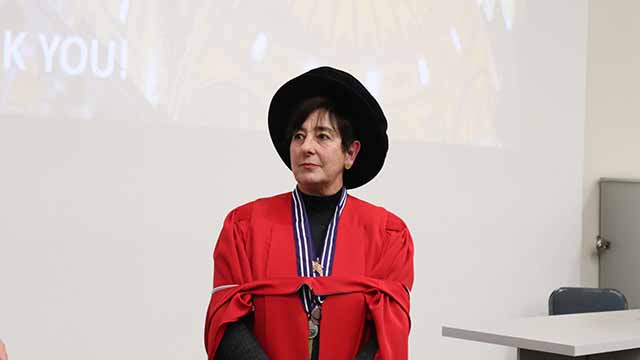 Rhodes > Latest News
The lessons, confessions and professions of Professor Anthea Garman
Date Released:
Tue, 7 August 2018 12:01 +0200
Rhodes University School of Journalism's Anthea Garman presented her first lecture as a professor at the Eden Grove Blue on Wednesday 1 August 2018.
Beautifully presented, the lecture titled "The Confessions and Professions of an Accidental Academic", took the packed room on her journey – with regular flashbacks and inspiring advice. The lecture gave the audience what her impeccable resume probably does not show – such as the reservations she had about doing her BA degree at Wits, and how she almost dropped it for a Journalism degree at Rhodes.
After graduating from Wits, sure that she wanted to be a journalist, she called the Rand Daily Mail and asked about their journalism training programme. "It was easy, as a white kid, to call up a newspaper and ask about their training programme," she said, speaking of the times.
Prof Garman remembered her first encounter with academic writing, which she now teaches in addition to writing and editing, long-form journalism and multimedia storytelling, when she took six weeks off from work to write her thesis. "After lots of reading, I felt I had written all that needed to be said – in three pages."
Much later as a researcher, Prof Garman went on a four-day academic writing retreat where, she said, she experienced severe writer's block and was not able to write until the fourth morning. "I wrote three poems instead," she recounted. "And on my return my paper sort of just wrote itself."
This led to the 'confessions' part of her lecture. "I am a writer. Which is not quite like saying 'I am an alcoholic', but it certainly takes the same amount of courage."
She encouraged all attendees to embrace the writer within them. "We must embrace and accept all writers – especially those who feel they are mediocre or amateur - because writing is too great an art form to not be enjoyed by all," she said.
During her years as a journalist, Prof Garman learned the importance of the word 'I'. One has to work hard before a byline is earned, and be brave enough to have a personal opinion instead of simply speaking on behalf of the publication. This is a lesson she learned first-hand when she was covering a rape trial in Pietermaritzburg. "Due to policy, I was not allowed to address, speak to or speak of the victim the way I would've wanted to," she recalled. "I'll never forget how we failed that woman…we were complicit in her suffering."
It was also with this lesson, that she learned how 'I' should make way for 'you'. "Just as you learned to speak, so should you learn to listen," she advised. This lesson was especially important in practice when she was working as a journalist during the last days of Apartheid.
To everyone's pleasure, Professor Garman, who has been an active part of the Rhodes University family since she joined Rhodes in 1997, concluded her lecture with an assurance that she has no intentions to stop writing any time soon.
Source:Communications