Group study areas
The Library provides 6 Group Study Rooms in the Information Commons on level 2.
These rooms may be booked for use on an hourly basis at the Information Commons Desk.
The 7th Room in this area is a Group Presentation Room, equipped with a data projector & screen so that students can practice their presentations.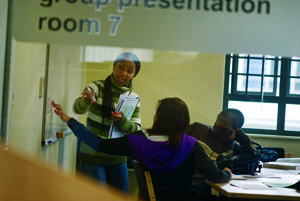 Group Presentation Room
There are 2 more Group Study Rooms in the Commerce Faculty area on level 3. Bookings for these may be made at the Commerce Desk.