Malema courts love and acceptance
Date Released: Fri, 29 November 2013 13:01 +0200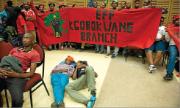 The EFF leader's muted appearance in court was a prelude to an unusual rally outside
Julius Malema received mixed news from his brief court appearance in the Polokwane high court on Thursday.
The Economic Freedom Fighters (EFF) leader's attempt to get the charges against him dropped was delayed, with the state prosecutor pleading for more time, citing the "voluminous nature of the matter".
Malema and four business associates face charges of fraud, corruption, money-laundering and racketeering.
The state alleges that the five misrepresented themselves to the Limpopo roads and transport department, leading to a R52-milion contract being awarded to On-Point Engineering. It is alleged that he made nearly R4-million from corrupt activities.
According to court papers, Malema had business ties with Lesiba Gwangwa, one of the co-accused and a director of On-Point Engineering. Malema's Ratanang Family Trust was an indirect shareholder in On-Point.
His co-accused are expected to be tried in September next year, and Malema will join them unless the charges are dropped, which the state must decide before April.
The rallying machinery of the EFF was not to be deterred by such lukewarm legalities. Malema took to a platform erected close to the court after the decision and announced: "We are not here for court, we are here for [a] rally."
And rally they did.
Political analysts agree that Malema has tapped into a powerful, unheard constituency — the unemployed youth. But Malema's audience, and his voting target market, are not simply unemployed. To hear Malema tell it, they are ashamed and ignored. They feel left behind by their country and leaders and have a host of social ills to battle that have affected their core sense of self — HIV, rape, abuse and the shame of having no gainful employment.
"There is nothing wrong with you, African child, you are one of the brave," Malema said. "You can't be demoralised now, especially when you are a part of EFF. And, as long as you are unemployed, we will never rest until you get a job."
Malema reached into the hearts of his rapt audience, projecting a benevolent paternal image, proffering love and endless acceptance.
"Some of you are HIV positive but you are ashamed; you're not telling your family. Gather the necessary courage and tell those who love you. We love you. I'm proud of you. No one has the right to judge you."
Malema's political skill lies in his ability to spot gaps in what people need to hear from politicians, unhindered by his previous and often contradictory stance on the matters. For years gender activists have despaired of a political leader ever speaking about gender issues. And a black male politician speaking out in favour of gay rights was practically a fairy tale.
On Thursday Malema stepped into both gaps.
"Victims of rape and abuse, keep strong," he said in a quiet moment. "Teach others to survive. Those of you in abusive relationships, those of you who have been raped and are not reporting it, your home is EFF. Come report to us. You will not be judged."
And later: "We love all the gay people in SA and their world … it is their choice."
Malema may not have won a court victory but he used the opportunity to further secure the loyalty of a mass of voters who may well deliver him a bigger win come the elections in 2014.
Caption: Unwavering: Julius Malema's supporters filled the Jack Bote community hall the night before he appeared in court.Photo: Delwyn Verasamy
By Verashni Pillay
Pillay graduated from Rhodes University
Source: Mail and Guardian