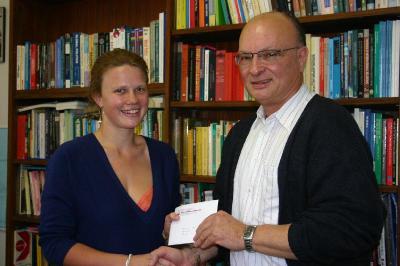 Rhodes > Political & International Studies > Latest News
Best Essay for Politics Student
Date Released:
Thu, 16 September 2010 08:26 +0200
Rhodes honours student, Bridget Hannah, has won the South African Association of Political Studies (SAAPS) Best Essay award in the Honours category for her essay entitled, "With reference to Deutsch, Carr, Haas and Habermas, explain how constructivist Emmanuel Adler seeks to overcome anarchy and how he suggests the building of international or transnational communities."
SAAPS, other than congratulating Bridget and wishing her well in all her academic endeavours, also awarded her a cash prize of R1 500 and a copy of the New South Africa Review No. 1, Wits University Press. Bridget was surprised but very happy with the outcome and proud of her achievement since her essay was the best in South Africa.
Professor Paul Bischoff, the head of the Political and International Studies department, was delighted at the news and said that the award went to a very deserving candidate. He said that Bridget (who also tutors in the department) "is an extremely engaging student who helped galvanise seminars with her demonstrable interest and motivation."
Bridget's essay from her International Relations Theory course, focuses on an alternative constructivist interpretation of international relations as compared to that offered by mainstream realist discourse. Security communities function on the assumption of peace and mutual understanding shared among countries that share similar ideologies and views of the future, eliminating the possibility of war and material conflict.
Bridget completed her BA majoring in Politics and History before going on to do her Honours in Political Studies with Prof Bischoff. Her marks have also proven her to be among the top of her class. Although she would love to continue with her Masters next year she has decided to go to Korea to teach so that during that time she can focus on applying for scholarships to do her Masters.
Source: