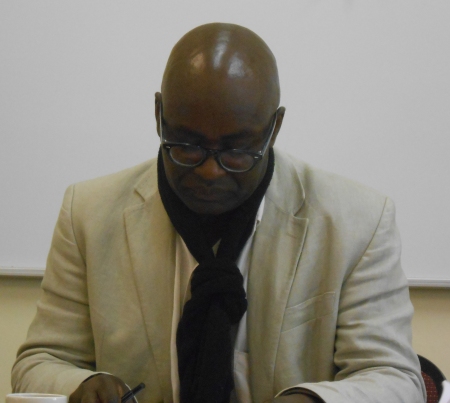 Rhodes > Political & International Studies > Latest News
Achille Mbembe presents at Rhodes
Date Released:
Fri, 15 August 2014 13:45 +0200
A group of about 20 students from the Department of Political and International Studies and other departments got an opportunity to interact with Achille Mbembe (Distinguished author and public intellectual) who ran a 3-hour seminar on Friday the 8th of August 2014. Most of the students who were in attendance have been working for a few years now under the guidance of Richard Pithouse (lecturer at the Department of Political and International Studies) and Michael Neocosmos (from the UHURU unit for the Humanities at Rhodes University and Distinguished author on emancipatory politics. They did a close reading of Fanon - the introduction of 'Black Skin, White Mask' and the conclusion; as well as the introduction of 'The Wretched of the Earth', the conclusion, and the chapter 'Pitfalls of national consciousness'.

A great deal of time was spent closely examining a number of aphorisms: ' I am my own foundation'; the famous prayer to the body: 'O my body, make of me always a man who questions'.
Source:Department