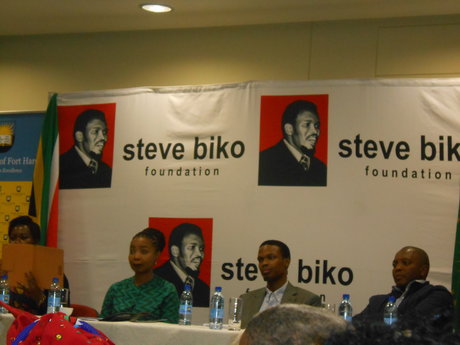 Rhodes > Political & International Studies > Latest News
Postgrad students attend Robert Sobukwe Memorial Lecture
Date Released:
Thu, 26 June 2014 10:04 +0200
On Thursday 22 May 2014, a handful of postgraduate students travelled to Ginsberg, a township in King William's Town, to attend the 8th Robert Sobukwe Memorial Lecture. This event was hosted at the Steve Biko Centre and was to be delivered by Dr Pumla Gqola who is a professor of African Literature at the University of the Witwatersrand. The Steve Biko Centre has been in existence in Ginsberg (Steve Biko's hometown) for about 18 months and is a centre for the local community to be a part of engaging in social issues as well as remembering the legacy of Steve Biko and the leaders that have influenced his thinking, from W.E.B du Bois to Frantz Fanon.
At this particular lecture the event was opened by Abelusi, a local drama collective which theatrically told the story of Robert Sobukwe, thereafter Dr Gqola delivered her lecture. When one thinks of Robert Sobukwe it is easy for him and his thinking to be frozen in a particular point in history especially when the organisation he founded, the Pan-African Congress (PAC) is no longer as relevant as it once was. Dr Gqola's approach in remembering Robert Sobukwe was to cause us to think about him in the context of where Africa is currently at. She drew examples from the recent tragic events of the Westgate terrror attack in Kenya and the abduction of 276 girls in Chibok, Nigeria. This approach freed Sobukwe from then to now as Dr Gqola caused us to start thinking about how we can take Sobukwe's vision of a united Africa forward.
The lecture showed (to the disaproval of some members of the audience) that Sobukwe is not an icon to be owned by the PAC or his peers but his thinking is accessible to all of us who care about realising an African rennaissance. Dr Mvuyo Tom, the Vice-Chancellor of Fort Hare University which co-hosted the Lecture) put it this way: we can truly say we are living Sobukwe's ideas if a young girl can walk home after this lecture without having been harrassed while on her journey. If we are to live out Sobukwe's ideas "Africa has to mean a present and a future home again for those who strive for a freedom linked to the freedom of others like and unlike us" (Dr Gqola).
Source:Politics Department