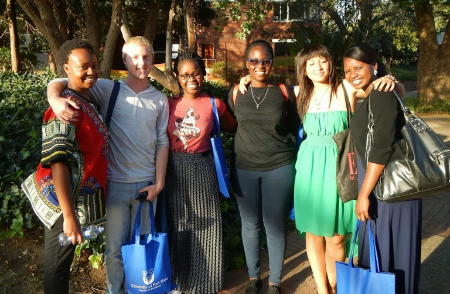 Rhodes > Political & International Studies > Latest News
Presentations and Research Travels
Date Released:
Thu, 31 October 2013 15:20 +0200
Several faculty members and students in the Department presented their research this year.
Paul Bischoff is on sabbatical till the end of the year. During this period he will organise an international conference on "African Voices in the New IR Theory" with Professor Amitav Acharya, travel to China to teach on Africa's International Relations at Jinan University in Guangzhou and conduct research in Guangzhou, Beijing, Yiwu and Zhejiang as well as act election observer in Albania and Georgia.
Louise Vincent and Master's student Chantelle Malan presented a paper entitled 'Who sponsors the framing of the fat body as diseased? South African English language press coverage of "the obesity epidemic" 1997 to 2012' at the Wits University Body Knowledge Conference 2-5 September 2013.
Louise Vincent and Catriona Macleod's paper was presented at the British Pscychological Society's Conference on Citizenship Sexualities in Britain in July. The paper is entitled 'Introducing a critical pedagogy of sexual and reproductive citizenship: extending the 'framework of thick desire'. This paper comes out of a larger collaboration in a Sanapd funded project which is concerned with Life Orientation Sexuality Education in South Africa.
Master's student Grace Idahosa presented a paper at UCT's CrossCurrents Conference on Current Research in the Humanities. Her paper, co-authored with Louise Vincent, was entitled 'Joining the Academic Life. South African Students who Succeed at University Despite not Meeting Standard Entry Requirements'.
A group of third year students in the Department, accompanied by Sally Matthews, attended the SAAPS regional colloquium held at the University of Fort Hare in October.
Sally Matthews attended the Teaching Africa in International Studies, Teaching International Studies in Africa Workshop, University of Cape Town in September where she presented a paper about teaching Africa in South Africa.
Photograph supplied: Students in the Department at the SAAPS regional colloquium.
Source:Louise Vincent