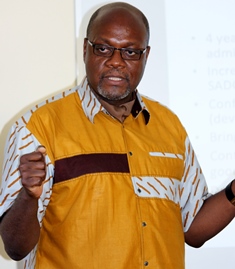 Rhodes > Political & International Studies > Latest News
Prominent visitors
Date Released:
Thu, 31 October 2013 14:57 +0200
The Department has had several visitors this semester. Dr Geoff Pigman, who teaches political economy, diplomacy and international business at Bennington College in the USA, has been visiting the Department to teach courses in diplomacy to our second years and our postgraduate students.
We have also been very pleased to have three visitors presenting seminars as part of the course Peace and Conflict in Africa which forms part of our Diploma in International Studies. Dr Andrews Atta-Asamoah (Institute for Security Studies), Dr Kwesi Aning (Kofi Annan International Peacekeeping Training Centre) and Dr Paul-Simon Handy (Institute for Security Studies) each spent a week in the Department.
Photograph supplied: Dr Paul-Simon Handy presented a seminar in the Department.
Source:Prof Louise Vincent