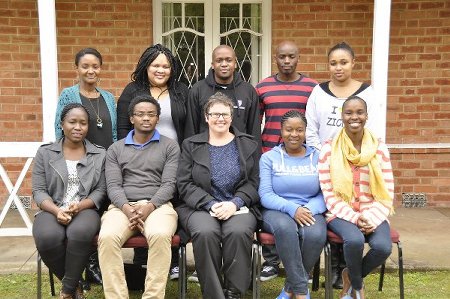 Rhodes > Political & International Studies > Latest News
Successful year for departmental research group
Date Released:
Mon, 1 December 2014 11:49 +0200
The pictured group are all part of an Andrew Mellon Foundation programme of research on the topic of Higher Education Institutional Cultures, Equity and Transformation, working under the supervision of Louise Vincent. The group are researching a variety of topics in the field of Higher Education Equity and Transformation, including: gay and lesbian students' experiences of residence life, the role of structure and individual agency in transformation, the programme for accelerated development of academics, first generation black working class students and social capital, social cohesion, women and student leadership and masculine performance in the context of a university rowing club.
Back row: Zuziwe Msomi, Boipelo Bonokwane, Mlamuli Hlatshwayo, Desire Chiwandire and Anda Matebese. Front row: Grace Idahosa, Masixole Booi, Louise Vincent, Chipo Munyuki and Thobile Dlamini.
Source:Department