Rhodes University
Scholarship Applications Open
This year the RU Scholarship division is once again advertising a range of scholarships for postgraduate studies at Rhodes University. These scholarships support scholars in a range of different faculties and we welcome both Rhodes University graduates and scholars from other universities to apply.
Rhodes University
Youth Day Dialogues
The Equity and Institutional Culture Office's main objective is to drive the transformation of the institution towards being an institution whose staff and students' practices are demonstrably informed by a deep appreciation of equality, equity and human rights. The directorate works in partnership with the various divisions and faculties of the university. It also partners with different student organisations.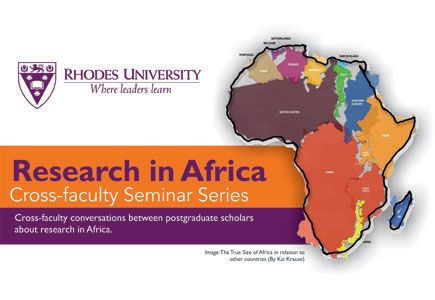 ELRC
Postgraduate 'Research in Africa'
Postgraduate 'Research in Africa' Cross-faculty Seminar Series kicks off with a seminar on Biodiversity Conservation and Statebuilding in the DRC How can biodiversity conservation be used to enhance co-operation, peacebuilding and statebuilding? This is the question that Deo Kujirakwinja from the Department of Environmental Science raised in the Research in Africa postgraduate seminar.