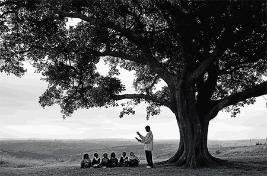 Rhodes > School of Languages > Latest News
Speaking in mother tongues
Date Released:
Sat, 22 September 2012 14:45 +0200
Academics, politicians and experts in the Eastern Cape are calling for the use of indigenous languages in education and all government documents.
This, they say, will help improve the country's economy as many people will understand what is happening around them.
A draft South African Languages Bill is still being discussed in parliament. When endorsed, the bill will make it mandatory for national government departments and public entities to select an indigenous language used by the majority in a particular geographical area, and to incorporate it into communication.
Speaking to the Saturday Dispatch, language expert Professor Kwesi Prah said no society could succeed without using indigenous languages. "No society makes any progress without using indigenous languages in the economy and education," Prah said.
"You lift people's languages, you lift their self-esteem and pride.
"The moment you use other people's language, you are putting yourself down and losing your identity as a country," Prah said.
In efforts to improve the standard of education, the Eastern Cape is the first province in the country to move towards implementing mother tongue-based teaching, learning and assessment in the foundation phase.
Already, 74 primary schools in the Cofimvaba district have adopted the model, which it is envisaged will be rolled out as well in the other 22 education districts in the province.
Currently, the province is crafting a standardised dictionary for maths, science and technology at schools.
Xhosa textbooks, other than the normal English-worded material, will be provided to pupils.
Children in the foundation phase (grades 1 to 3) will write their Annual National Assessment (ANA) exams this year in Xhosa.
Prah called on the national government to emulate what the Eastern Cape has done. He said the South African government should adopt as policy that lower primary schools should teach children in their mother tongues.
"Let's look at what happened to Afrikaans. It was first spoken in the early 1900 s and was made the official language in the early 1920 s. So the government must adopt the same stance," Prah said.
Last year, Basic Education Minister Angie Motshekga released the country's ANA results for the foundation and intermediate phases (grades 4 to 6).
Literacy and numeracy tests were conducted at a total of 164 schools in the Eastern Cape – and the results proved poor. Grade 3 pupils scored 39% in literacy and 40% in maths, while Grade 6 pupils scored lower, managing only 29% in both subjects.
Eastern Cape education department language policy manager Naledi Mbudeshale, who is driving the project, said the move would improve the ANA results.
"I know that there are some fears that children will not know English and that these children will not have a bright future and there will not be a space for them at higher institutions of learning, but these are untrue and unfounded.
"These children are going to be taught English, but they will learn other subjects in their mother tongue. English will be just a resource subject."
Last week, Arts and Culture Minister Paul Mashatile said South Africa needs to promote fairness in the use of official languages, especially during service delivery by government to the people.
Mashatile said the draft South African Languages Bill was aimed at ensuring that government uses all the 11 national languages without relegating or prioritising particular languages.
Rhodes University School of languages and African languages head Professor Russell Kaschula said African languages should be made compulsory at schools.
ANC secretary-general Gwede Mantashe said the ANC in its last lekgotla proposed that mother tongue languages be offered at schools to improve results. "This will then enable Xhosa speakers at former Model C schools to choose Xhosa over Afrikaans as their first additional or home language," Mantashe said.
Massenya Dikotla, chief executive of the Molteno Institute for Language and Literacy, said the constitution states that South Africa is a multilingual country and that this makes it obvious that people should have the opportunity to learn in their own home language.
"However, this should not be to the exclusion of other languages. Instruction in at least one additional medium is necessary," he says.
"The direction we are trying to move education in is that of home language instruction for students, with a second and possibly even a third language also forming part of the syllabus. This could mean that, in future, we have graduates who can speak at least one African language, as well as English and perhaps French or German," he said.
He said the challenge was that the marginalisation of the African languages was entrenched.
"There is a prevailing mindset that English is the best medium of instruction, even if it is not the child's first language. This is an attitude that needs to be changed if we wish to truly integrate African languages into the curriculum."
South Africans have been referred to as the "rainbow nation", a title which epitomises the country's cultural diversity. The population is one of the most complex and diverse in the world. Of the over 40 million South Africans, nearly 31 million are black, 5 million white, 3 million coloured and a million Indian.
The black population is divided into four major ethnic groups, namely Nguni, Sotho, Shangaan- Tsonga and Venda. There are numerous sub-groups of which the Zulu and Xhosa (two sub-groups of the Nguni) are the largest.
The majority of the white population is of Afrikaans descent (60%), with many of the remaining 40% being of English descent. There are eleven official languages in South Africa, namely English, Afrikaans, Ndebele, Sepedi, Xhosa, Venda, Tswana, Southern Sotho, Zulu, Swati and Tsonga.
According to the 2001 census, Zulu is the mother tongue of 23.8% of South Africa's population, followed by Xhosa at 17.6%, Afrikaans at 13.3%, Sesotho sa Leboa at 9.4%, and Setswana and English each at 8.2%.
Sesotho is the mother tongue of 7.9% of South Africans, while the remaining four official languages are spoken at home by less than 5% of the population each. — mphumziz@dispatch.co.za
Written by: Mphumzi Zuzile
This article was published on Daily Dispatch online.
Source: