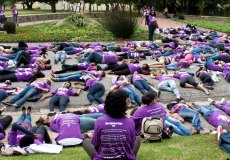 Activists give voice to rape survivors
A powerful form of protest that started in Grahamstown has gone national. Seven years ago 80 people taped their mouths shut publicly to show solidarity with rape survivors who are silenced by sexual violence.
Journalism student writes his way to Russia
A STUDENT from Rhodes University has been chosen as one of only two African representatives to attend a prestigious sports journalism seminar in Russia during the July vacation.