Education a key theme for 2013 Anglican synod
Church called to witness to broader society TOMORROW, the Anglican Synod, which takes place every three years, begins. This year it takes place in Grahamstown, at St Andrew's College.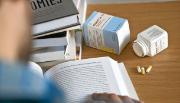 'Smart drugs' rife at universities
'My brother's mates at varsity used to ask me for pills, and whenever I would say no [he] would steal a few tablets anyway," Melissa* says.
Rhodes statement on the Makana water outages
Recent water outages in the Makana municipality area which this week continued unabated, are a major concern to Rhodes University as these are threatening to disrupt the academic life, and students and staff activities.