Michaela inspires despite obstacles
SHE may be disabled but it hasn't stopped Michaela "Chaeli" Mycroft from following her dreams and doing what many able-bodied people would not dream of doing.
Don't settle for ordinary
The beginning of this year Basic Education Minister Angie Motshekga announced last year's matric results. In her address to the nation she mentioned that "we're encouraged by notable improvements in the education of children and society.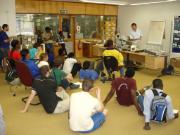 The survivors' guide to first year
The experts on how to survive as first-year university students are ... this year's second years. Here they share their advice for grade 12s.