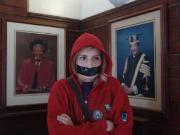 Thinking our way out of abuse
The international 16 Days of Activism for No Violence Against Women and Children campaign begins later this month. Grocott's Mail student reporter Faiza Mallick gives an overview of gender-based violence in South Africa and ways in which it is being addressed.
Dad spreads joy on TV
For Rhodes University PhD student Bongo Zuma being a dad to little Sinoh, 3, is the easiest thing in the world. And now he is spreading his joy on a new reality television show, Daddy 24/7, which airs on SABC1 next week. The show aims to break new ground and cancel all the stereotypes about a typical father's role in raising children.
HIV/AIDS CandleLight Vigil
SHARC in collaboration with SRC invites Staff and Students to a CandleLight Vigil happening on the 24 August (Friday) at 17:30. Venue: We will meet in front of the Rhodes Admin Building/the Clock Tower then we will march (walk) to the Rhodes Chapel.