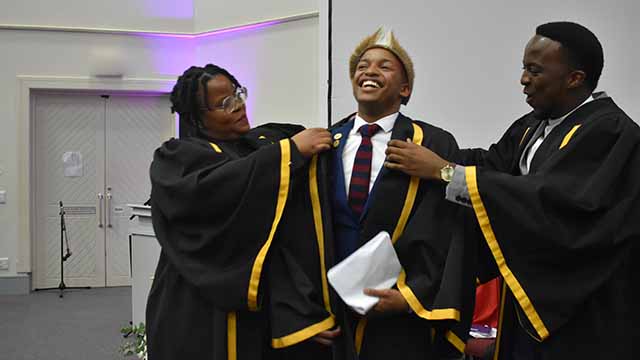 By Tswelopele Maputla, Bachelor of Journalism student
The night of the 17th of August was a whirlwind of emotion as Rhodes University inaugurated the 2019 Student Representative Council (SRC) only hours after the memorial service of the late Khensani Maseko, who was an SRC alumni and member of the Independent Electoral Board (IEB).
Chairperson of the IEB, Desiree Wicks, was proud to announce that student participation in this year's elections exceeded quorum. "We reached the 2274 quorum before voting for Oppidans closed," she said. Wicks congratulated the IEB for their dedication, stating that they counted the votes until the wee hours of the morning. Impartial officer, Des Bekker confirmed that the votes were counted accurately and that the elections were free and fair.
The presidency had a narrow victory with Samkelo Mngadi exceeding his vice, Khakha Mpofu, by only 62 votes.
Advising her successor, 2018 SRC president Nhlakanipho Mahlangu, said: "SRC presidency is not about podiums and media statements, but about serving the student body. Don't think that you're better than the rest of your council."
Mahlangu also urged the student body to be kinder to their leaders. "We are also students; we also have struggles," she said. She recalled times when she saw members of her council sacrifice their academics to help students. She spoke about a time when academic councillor, Siyabonga Malaza, fought rigorously for a student to get their Duly Performed (DP) certificate while his own was hanging by a thread. Mahlangu called on the student body to denounce the idea that students at Rhodes are apolitical by inviting them to participate in SRC initiatives like student parliament and constitutional reviews.
The night ended in tears and warm embraces after an announcement that SRC liaison officer, Eric Ofei, will no longer be at Rhodes. After playing an active role in student governance for 12 years, Ofei hung up his robe and sent well wishes to the incoming council. "Leadership is not about being liked all the time or making popular decisions," he advised them. "You should be stern in what you believe in and always serve the students."
The results for SRC 2019 are as follows:
President: Samkelo Mngadi
Vice President: Khakha Mpofu
Secretary General: General Mvengenya
Treasurer General: Neo Mohlahla
International Affairs Councillor: Tendai Maundi
Oppidan Councillor: Jessie Ditshego
Community Engagement: Mandilakhe Valela
Media Councillor: Siphumelele Dyakophu
Student Benefits: Akhona Mathiso
Environmental Councillor: Kate Matoone
Projects Manager: Catherine White
Activism and Transformation: Wandile Mthembu
Sports & Societies: Ntokozo Magwaza
Residence Councillor: Siphiwayinkosi Mdluli
Academic Councillor: Kgotso Ndlovu
Please help us to raise funds so that we can give all our students a chance to access online teaching and learning. Covid-19 has disrupted our students' education. Don't let the digital divide put their future at risk. Visit www.ru.ac.za/rucoronavirusgateway to donate