Rhodes > Student Networking > Signing Up > Connecting > Residence
Connecting in Residence
Residences now have a mixture of wired and wireless connections, and from 2016 some residences are wireless-only. Please make sure you know how you're going to connect in your particular residence. What's below applies to traditional wired connections (still available in the majority of residences).
Almost every residence room on campus is equipped with a network point. In most rooms it is located in a small white plastic box mounted above the skirting board on one wall of your room (usually close to a power plug).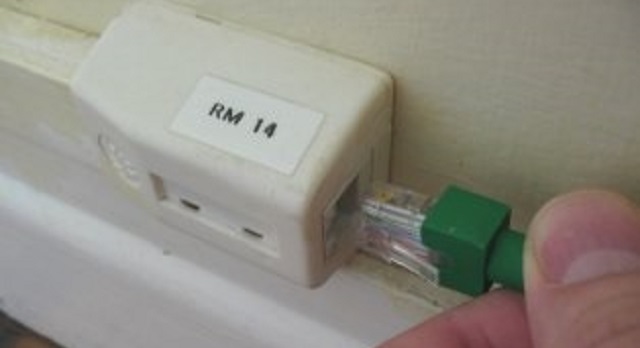 In residences that were built after 1999, the network point is often fitted into the beige or grey power skirting that goes along one wall of your room. These network points look slightly different, but work in the same way.
You should plug one end of your patch cord (flylead) into the network point on your wall and the other end into the corresponding socket on your computer.
Network sockets on computers are often marked with a symbol of three computers connected to a horizontal line (like the one on the right). When properly inserted, your patch cord should be securely clipped into the socket, usually with an audible click.
When disconnecting your patch cord, please note that there is a little plastic tab that keeps it clipped into place. You'll need to press this down before the plug on the end of the patch cord will come out of the socket.
My network point is missing!?
If your residence room does not have a network point, or if the network point in your room is damaged, please contact our Student Help Desk. They can arrange for a new point to be installed, or for your existing point to be repaired (please note that if you need a new point, it may take some time for it to be installed). If you're reporting a fault with an existing point, please ensure you take note of any labels that are attached to the point and let the Student IT Help Desk know what they say — they allow our technicians to quickly find the particular network point.
Last Modified: Wed, 31 May 2017 12:30:14 SAST