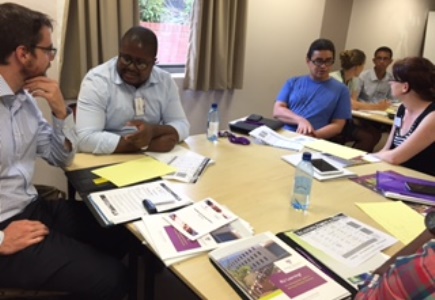 Rhodes > Teaching and Learning > Latest News
Academic Orientation Programme 2016
Date Released:
Thu, 4 February 2016 10:19 +0200
The initial phase of the Academic Orientation Programme (AOP) took place in the last week of January. Hosted by the Centre for Higher Education, Research, Teaching and Learning (CHERTL), the AOP is regarded as an essential experience, facilitating the sharing of important information, experience and expert knowledge of academics, strongly "underpinned by scholarship" (HOD Prof Lynn Quinn).
Over 50 academics from across campus participated in the programme this year, both as presenters and participants. Opened by the Vice Chancellor, Dr Sizwe Mabizela, this programme focused on the institutional context of Rhodes University, and being an academic, with specific reference to the current context of transformation. The academic foci of Teaching & Learning, Research and Community Engagement framed the dialogue.
Members of staff were introduced to the main structures and leading personnel of the university and staff shared their experiences of engaging with teaching and learning, research and community engagement. Many resources were made available and information shared around expectations of, and support offered by, the university. Teaching and learning workshops took place every afternoon, and every lunchtime offered further opportunities to engage with university activities. The week was followed up by a series of workshops on supporting the use of the learning management system RUconnected in spaces of teaching and learning.
These events will be followed up by CHERTL throughout the year. Future activities include Curriculum Conversations (Dr Joanne Vorster j.vorster@ru.ac.za) , CATALyst - Conversations about Teaching and Learning (Dr Sue Southwood s.southwood@ru.ac.za), the Postgraduate Diploma in Higher Education (Dr Dina Belluigi d.belluigi@ru.ac.za) , workshops for probation and promotion (Prof Lynn Quinn l.quinn@ru.ac.za) and many other spaces for engagement, around teaching and learning in particular.
By: Sue Southwood
Source:Dr Sue Southwood