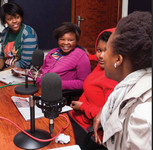 I am one of the teachers in the School of Journalism and Media Studies (JMS) at Rhodes University who teaches Writing and Editing (W&E) – a quaint pursuit, you may think, in this century of technology when newspapers, those old-fangled things, are folding up (in every sense) on every continent.
But we teach W&E on the premise that all good journalism requires superior facility in this area. Of the six specialisations offered by the School, W&E is the only one taught across all years from first to fourth, and is the foundation of the one-year postgraduate diploma. In every course at every level, we face one supreme challenge: how best to teach good journalism.
Because, after all is read and regurgitated, good journalists become good with practice; they learn more by doing than by sitting in seminars; and their lights shine brighter in a newsroom than in a classroom. Because of this, Rhodes University's School of Journalism and Media Studies (JMS) operates a number of pioneering projects of experiential learning. Journalism students who work on Grocott's Mailgain an unparalleled understanding of praxis which embraces everything experiential learning has to offer. So do students who work on Cue and SciCue.
As a result, the J-school can put chunky ticks next to every one of the ideals listed to guide academic staff in their consideration of service learning.1 What, then, can Upstart contribute to the existing selection of experiential learning opportunities? The answer, for me, lies chiefly in the immersion required by service learning – that exposure to a section of the community which, because it is sustained, is particularly successful at unseating assumptions and rearranging personal priorities.
Back in the 90s, sociologists Robert Hironimus-Wendt and Larry Lovell- Troy wrote about service learning.2 I take note of their views because what are journalists if not sociologists? Their reference to "the general sense of optimism among practitioners of service learning" made me smile – I immediately recognised this as a description of Shireen Badat and Nompumezo Makinana who drive Upstart, often up long steep hills and across arid plains.
But it is when the sociologists write of the promise of their discipline as "the development of a more humane and reasoned society" that I see Rhodes journalism students alongside Grahamstown high school students, working together to make a newspaper that speaks to and for a group of citizens not normally heard in mainstream Grahamstown media. I see journalism students listening, talking, caring, thinking and grappling. I see their preconceptions and expectations being
dismantled, exploded and laid bare. And then I see them hunkering down, trying to make sense of the complex world they want to report which, up close, turns out to be far more complex than they thought. If I have one reservation about Rhodes' introductory guide for academics, it is the claim that "students will need class activities and assignments to assist them in making the connection between course content and service." It is my experience that students are plenty smart enough to make the connections we would like them to make; I fear "class activities" risk imposing too structured and dictatorial a roadmap on a process that is by its nature unpredictable. (It's unpredictable because learning is so personal a process.) Upstart offers journalism students invaluable immersion in the contradictory world they are soon to report on, and I wouldn't like to see the educational benefits of that contradictory world diluted by a preordained set of activities.
Hironimus-Wendt and Lovell-Troy remind us of the activist purpose of their discipline – and what are journalists if not activists too? For journalism is an active pursuit, requiring a practical and robust intellectual constitution. Journalism cannot simply be learnt in a classroom. But it cannot simply be learnt outside a classroom either. It has to be done. And it is in the doing – in that messy, noisy, contradictory laboratory called life – that the learning happens.
However, having alleged their activist position, the authors become somewhat defensive in their conclusion, writing: "Service learning relies upon experiential knowledge as an alternative pedagogy for the classroom experience." Here I demur.

Service learning is not an alternative to the classroom experience. It is an enhancement and an enrichment, rendering the classroom experience more meaningful. And that applies to classroom learning whenever it happens – including in the past. Applying the learning is what makes it meaningful. And if I want journalism students to learn anything, I want them to learn how journalism can be meaningful. Upstart can help them do that.
1 Service-Learning at Rhodes University: An Introductory Guidefor Academics (p.2) lists these reasons for incorporating service learning into courses:
to enrich understanding of the course;
to broaden appreciation of the discipline;
to provide opportunities to apply what is learnt (i.e. DO it); and
to enhance development of democratic citizenship.
And it lists these as good symptoms of a service learning programme:
it addresses local needs;
it develops the students' academic skills;
and sense of social responsiveness;
and their commitment to the community.
2 Hironimus-Wendt, R.J. and Lovell-Troy, L. Grounding service learning in social theory. In Teaching Sociology, Vol. 27, No. 4. (October 1999). pp 360-372.
3 Service-Learning at Rhodes University: An Introductory Guide forAcademics (p.5)
www.upstartyouth.com
Source: Upstart
Please help us to raise funds so that we can give all our students a chance to access online teaching and learning. Covid-19 has disrupted our students' education. Don't let the digital divide put their future at risk. Visit www.ru.ac.za/rucoronavirusgateway to donate